WizKids has announced the August 10th release of HeroClix Street Fighter, the newest set to enter the realm of HeroClix. HeroClix Street Fighter adds 27 new figures from Capcom's hugely popular fighting video game franchise that has sold more than 29 million units since it debuted in 1987. The HeroClix Street Fighter figures are fully compatible with all other HeroClix figures. The new series includes fan favorite Street Fighter characters such as Ryu, E. Honda, and Bison, in their characteristically dynamic poses, which are highlighted by cool "clear sculpt effects."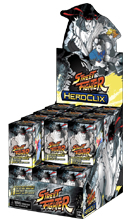 The new
HeroClix Street Fighter
figures are available in a 24-count countertop display unit, with each individually boxed figure priced at just $2.99, providing a low-cost point of entry for new customers as well as a fast and convenient way for current players to supplement their collections.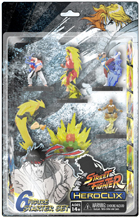 The
Capcom Street Fighter HeroClix
figures are also available in a
Starter 6-Pack
, which will retail for $19.99, and which will allow players to conduct their own
Heroclix Street Fighter
matches right out of the box. The attractive, transparent
Starter 6-Pack
includes key
Street Fighter
characters like Guile, Ryu, and Blanka that are "completely redialed" and feature alternate paint schemes from those used in the base set. In addition the
Starter 6-Pack
includes character cards, 4 exclusive maps, 2 custom dice, and a 2011
HeroClix
rulebook.