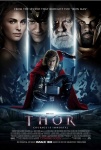 As the kick-off weekend for the summer geek culture season begins, things seem stacked for a good one.
Thor
, this year's first-weekend-in-May comic movie, has already done $125 million overseas and is expected to do $55 or more in opening weekend box office in the U.S., according to
Variety
.
The comics released for Free Comic Book Day this year are the best ever, with many strong properties that are widely known among non-comic fans (see 'Maybe
FCBD's Best Year
?"). And retailers have responded by ordering a record number of books, over 2.7 million, blowing away the old record by over 10% (see "
FCBD Orders of 2.7 Million
").
On the game front, this weekend sees the pre-release events for the latest
Magic: The Gathering
set,
New Phyrexia
(see "
Magic and FCBD
").
Magic
has been on a roll for over a year, and there's no reason to believe this set will be any different.
So with two major events drawing customers to comic and game stores, the potential exists for something that's bigger than either could be on its own. Be safe out there, and let us know how it goes!