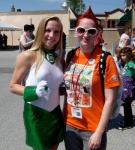 Dave Williams of Captain Blue Hen Comics & Entertainment in Newark, Delaware writes in to share this Free Comic Book Day report.
Free Comic Book Day at Captain Blue Hen Comics was an amazing block party of fun. More than 1,600 people picked up at least 7.000 free comics. Visitors of all ages came from all over the Delaware and from Maryland, Pennsylvania, and New Jersey.
The Delaware state and local government recognized the scope of Captain Blue Hen's Free Comic Book Day. Newark Mayor Vance Funk attended the event. Governor Jack Markell sent a letter of tribute to recognize the shop and the event as a celebration of community and art:
"Governor Markell and Lieutenant Governor Denn recognize Captain Blue Hen Comics for their volunteerism and their community awareness. Free Comic Book Day provides an opportunity for the entire community to enjoy the many aspects of comics as a true American art form, while raising funds for local organizations."
The shop and our neighbors, the Newark Arts Alliance hosted art seminars and activities like superhero-themed Mother's Day projects.
Captain Blue Hen Comics used the event to raise funds for the Newark Arts Alliance, a non-profit supporter of local arts. We also collected food donations for the Newark Welfare Committee.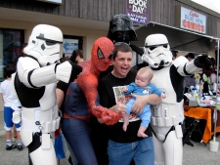 Best of all, the day was full of family, comic book fun with everyone enjoying comics! We invited our own characters and many visitors came dressed in costume. Our guest artists, Neil Vokes, John Gallagher, Jamar Nicholas, Ben Harvey, Rich Faber, and Dan Parent (writer/artist for FCBD offering
Pep Comics feat. Betty & Veronica
), signed and sketched all day for excited fans.
"We are very proud of Free Comic Book Day. We at Captain Blue Hen have had a lot of fun over the last ten years celebrating comics on this special day."
--Joe Murray, Owner, Captain Blue Hen Comics
The opinions expressed in this article are solely those of the writer, and do not necessarily reflect the views of the editorial staff of ICv2.com.
Retailers--Share with us your Free Comic Book Day stories and/or Magic: The Gathering--New Phyrexia pre-release (and include a photo or two of your event) to:
comments@icv2.com