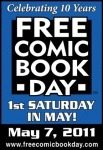 Garrick Crump of G's Comics in Murray, Kentucky sends in this Free Comic Book Day report.
We are a hybrid store in that we sell comics and games. Over all it turned out to be a good day. Had a free comic book seeking dad bring in his kid for some books. We told the dad about our sale on toys and his son found something that he was interested in. The dad whispered to the kid, "we can get free stuff here, if you wait we will go to Toys 'R' Us and get a toy, they are cheaper."
I was quite surprised with the Magic: The Gathering players. They found it odd that you could walk in a store and get something good for free. I told them that it applied to anyone, so they got some free books. And to my amazement and delight, they started to browse the "you actually have to pay" section and purchased some comics. In fact one person actually purchased more gaming supplies because they felt guilty about getting the free books.
The opinions expressed in this article are solely those of the writer, and do not necessarily reflect the views of the editorial staff of ICv2.com.
Retailers--Share your Free Comic Book Day and/or Magic: The Gathering--New Phyrexia pre-release stories (and include a photo or two of your event) to: comments@icv2.com