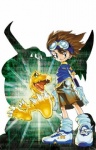 Tokyopop announced that it has acquired the U.S. rights to the Digimon manga and plans to begin releasing trade paperbacks in March of 2003 on a bi-monthly schedule.

There will be fifteen volumes in the series; MSRP has not yet been decided.

This is the second property acquired by Tokyopop from Disney Publishing; the first was the Monsters Inc. manga (see 'Tokyopop To Do Monsters Inc. Manga').

This property was first released in the States in anime and toys (Bandai) and trading card games (originally Upper Deck, now Bandai) around the same time as Pokemon in the late nineties, and still has a presence on television.

Tokyopop spokesperson Kristien Brada-Thompson told us that the manga art is by Akiyoshi Hongo and was originally created for Hong Kong publication.