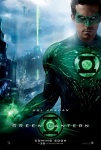 Most box office analysts are estimating that Martin Campbell's Green Lantern movie will earn between $50 and $60 million during its three-day debut weekend that starts Friday. The only new competitor that the Hal Jordan epic will face is the family film Mr. Popper's Penguins, a family-targeting PG-rated comedy in which Jim Carrey attempts to steer his career back into Ace Ventura territory.
Green Lantern opens at 3,816 locations including 2,711 3-D runs. It should be interesting to see how much of the film's opening weekend gross comes from 3-D showings. Pirates of the Caribbean: On Stranger Tides earned just 37% of its total from 3-D, which marked a new low for a major non-family release. Marvel Studio's Thor however brought in 60% of its debut frame take from 3-D, but Thor had the advantage of IMAX screenings, which Green Lantern does not.
Box Office.com's Phil Contrino's estimate of just $50 million was at the low end of the predictions. Contrino based his lower estimate on ticket service Fandango's report that Green Lantern was responsible for just 7% of the its daily sales. Box Office Guru's Gitesh Pandya was at the high end with a prediction of $61 million. Pandya believed the film would do well with "review-proof" tween boys and with African-Americans because the black Green Lantern John Stewart has broadened the fan base for the character.
Even if Green Lantern, which should benefit from Warner Bros.' extensive TV advertising campaign, surpasses expectations, it likely won't be enough to push the box office even close to where it was on this weekend in 2010 when Toy Story 3 opened with a mammoth $110 million. It will also be a tough road to profitability for Green Lantern, which sports a price tag north of $200 million not counting marketing costs. If the predictions for its domestic opening are on the mark, the film will have to do very well overseas, since it will need to earn around $500 million at the worldwide box office just to break even.