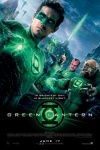 Martin Campbell's Green Lantern is off to a solid start. Warner Bros. reports that the film earned $3.35 million from showings at 1,810 theaters. The Ryan Reynolds-starring tentpole did slightly better than Marvel's Thor, which earned $3.2 million from 1,800 locations and performed almost on par with X-Men: First Class, which brought in $3.3 million from 1,783 theaters. Thor opened with $65.7 million, while X-Men: First Class' debut was in the $56 million range, which demonstrates that the midnight showings are not always the best predictor of opening weekend grosses.
With over 7,100 prints distributed throughout North America, Warner Bros.'
Green Lantern
has a chance to outperform expectations this Father's Day weekend, particularly if audiences fancy seeing the film in 3-D.
Deadline
indicates that some analysts believe the film could hit the $65-$70 million range if all goes well, and if expected the film's potential audience pays no attention to the critics, who have given the film a paltry 21% positive rating on Rotten Tomatoes with 99 negative reviews versus 27 positive.
Check back on Sunday afternoon for a clearer picture concerning the box office fate of the summer of 2011's biggest cinematic gamble.