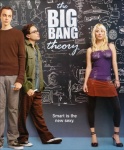 The hit sitcom,
The Big Bang Theory
, in which much of the action revolves around Wednesday night trips to the neighborhood direct market comic book shop, will hit syndication in September and will be shown on Fox TV stations nationwide five days a week. The series is heavily larded with pop culture references and the characters often dress up as their favorite comic book heroes. Cryptozoic Entertainment has announced
Bazinga,
a licensed
Big Bang Theory
party game that takes its name from the "gotcha" catchphrase made popular by the show (see "
Bazinga, Big Bang Theory Party Game
").
To celebrate the series' move to syndication the producers filmed a music video of the Barenaked Ladies performing the show's theme song—which was commissioned by the show's producers, who asked the group to create a virtual "history of everything" in just 32 seconds. The two-minute performance includes some portions of the song not heard on the broadcasts as well as some great behind-the-scenes footage of the group interacting with cast member's on the show's set and a cameo of Big Bang Theory producer Chuck Lorre, who actually is a guitar player, playing with the group.