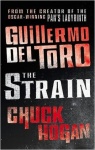 Dark Horse Comics announced the December launch of a 24-issue adaptation of Guillermo del Toro and Chuck Hogan's science fiction vampire novel trilogy The Strain. The comic book series will be collected in three graphic novels, the first of which should be out in the fall of 2012. The graphic novels will be titled like the novels. The first will be The Strain, the second The Fall, and the final volume Eternal, after the final volume in the Del Toro trilogy The Night Eternal, which William Morrow will publish this fall. All issues of The Strain comic book series will be available day and date as digital comics.
David Lapham (
Stray Bullets
) is adapting the trilogy while Mike Huddleston (
MK Ultra
) is providing the art. Far more than most prose authors who have their work adapted into comics, Del Toro appears to be very "hands on" when it comes to this project. He told
Variety
, "I supervise everything. I give my opinion on the art, the covers, the breakdowns. (Lapham) is capturing the novel very well."
Although Del Toro loved comics as a kid and has directed two films based on Dark Horse's Hellboy comic book series, this is his first actual stab at creating a comic book series. Del Toro plans to produce a video introduction to help sell the first Strain graphic novel in the Fall of 2012.
Del Toro decided to work with Dark Horse out of loyalty to Mike Richardson who supported the director during their seven year struggle to bring Hellboy to the screen, "He was behind me through thick and thin, they (Dark Horse) are great supporters of alternative and more adventurous comics."