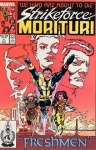 With Marvel (Disney) and DC (Warner Bros.), the two publishers who dominate superhero comics now firmly allied with specific studios, most of the movie deals announced at Comic-Con are coming from horror, science fiction, or other popular non-superhero genres, and a surprising number of the announcements involve properties that have been optioned before, but abandoned.

Warner Bros. has consolidated its control over DC Comics by moving most of its operations to the West Coast, and Disney paid $4 billion for Marvel, so neither the WB nor the Mouse House is likely to allow any major properties to go to other studios.
Still one of the deals announced at Comic-Con has Waterman Entertainment acquiring the rights to create a film based on a rather obscure Marvel title, Strikeforce: Morituri, a science fiction saga written by Peter B. Gillis that lasted for 31 issues from 1986-1989.
And as if the mammoth DC library of comic characters wasn't enough, Warner Bros. went out and snatched the rights to Christian Gossett's alternate history science fiction saga The Red Star, which was originally published by Image and was languishing in "turnaround" at Universal (see "
Warner Bros. Acquiring The Red Star
") since 2006.
Mandeville Films, which is producing the new
Muppets
movie, also snatched another long-gestating property, Top Cow's mystical hitman saga,
The Darkness
that has been stuck in developmental hell at Dimension Films since 2004 (see "
The Darkness Falls in Hollywood
." Mandeville now adds
The Darkness
to a slate that includes two other assassin-themed Top Cow titles,
Alibi
and
Crosshair
.
In another recent deal, Benderspink, which has optioned a hoard of comic book properties including
Zombies of Mass Destruction, Continuum, The Straw Men, Last Blood, Undying Love
, and
Devashard,
has acquired the rights to the Pulp Theater graphic novel
Brodie's Law
, which was previously optioned in 2006 by Markosia for director Renny Harlin (see "
Markosia Signs Brodie's Law
").
As for the "funny animal" genre, well, according to
Variety
, Dark Horse has set up its graphic novel
Chickenhare
, about a half-chicken, half-rabbit at Sony Pictures Animation.