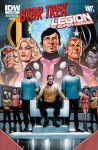 Comic-Con News Dispatch—In the most startling and unexpected announcement of Comic-Con so far, IDW Publishing and DC Comics have announced a six-issue monthly Star Trek/Legion of Superheroes crossover that will debut this October. This is the first time that IDW has participated in a crossover event with DC Comics and it's a doozy.
The crossover tale, which is being written by the Eisner nominated author Chris Roberson (iZombie), will have interior art by Jeffrey and Phillip Moy, while Phil Jimenez will provide covers for all six issues with variants coming from Keith Giffen, Steve Lightie, Mike Grell, and Gabriel Rodriguez.
The six-issue Star Trek/Legion of Superheroes series will feature Kirk, Spock and 4 other key members of the original crew of the Enterprise, who beam down to a planet only to realize that the planet where they have arrived isn't their intended destination, or even the right universe. Meanwhile a team of six "Great Darkness Saga" Legionaires find themselves cast into a very different sort of the 23rd Century. Not surprisingly the two teams are drawn together and have to take on an array of foes including Khunds, Klingons, and the Borg.