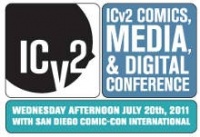 At the ICv2 Comics, Media, and Digital Conference, ICv2 CEO and Publisher Milton Griepp presented a white paper that provided estimates for the burgeoning market for digital comics. While comics are still lagging behind books in terms of digital penetration (a robust 37% of the 300,000 copies of George R.R. Martin's A Dance With Dragons that were sold on its first day of release were in e-book form), they are growing extremely fast with sales doubling during the first six months of the year.
ICv2 estimates that sales of digital comics grew from less than one million in 2009 to between $6 and $8 million in 2010, a figure that will likely double in 2011. Sales during 2011 were aided by the growth in tablet computers in particular the iPad as well as the increased availability of digital comics designed specifically for the device, which is enjoying its first full year in the market. Android-powered devices have the potential to expand the market to different set of customers, and other e-readers such as the Nook and Kindle also have potential, but are just in their infancy as digital comic delivery devices.
Sony's PSP's usefulness as a comics delivery device has largely collapsed as the result of the hacking of the PSP network, and it doesn't appear at this time that it will recover.
The market is poised for even more growth as tablet computers proliferate and e-readers become more tablet-like and suitable for comics just as day and date availability is about to grow exponentially as publishers look to exploit the digital market to reach new consumers (see "
Major Marvel Titles Going Day & Date
").
So far there is little evidence of cannibalization of sales of physical comic books by actual sales of digital comics, though a recent poll by
Comic Book Resources
indicated that over a third of respondents said that they would go digital or split purchases when DC made all its titles "day & date." Early indications are that those consumers who buy both paper and digital comics tend to buy more, which could mitigate the effect of at least some of the defections.