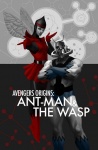 Comic-Con News—At it's "Next Big Thing" panel Marvel's EIC Axel Alonso announced a number of new editorial initiatives including a series of Avengers Origins books, Hulk of Arabia, and Villains for Hire, a new take on the Heroes for Hire concept.
Avengers Origins will be a series of one-shots focusing on the members of the superhero team. The titles include Ant-Man and Wasp by Roberto Aguire Sarcasa, a Luke Cage one-shot from writers Mike Benson and Adam Glass, Thor by Katherine Immonen, The Vision by Kyle Higgins and Alec Siegel with art by Stephane Perger, and Quicksilver and the Scarlet Witch by Sean McKeever.
Hulk of Arabia
, is a new story arc by Jeff Parker and Patrick Zircher, which will debut in October in
Hulk
#42 and will likely appear later as a graphic novel collection.
Hulk of Arabia
is a politically charged saga set very much in the present-day Middle East of the "Arab spring" that finds the Red Hulk and General Thaddeus Thunderbolt Ross to the on a mission to avenge the death of one of Ross' oldest friends and colleagues.
The new Villains for Hire by Dan Abnett and Andy Lanning will be an ongoing monthly book that will debut in November and feature Misty Knight (one of the stars of the 2006 Heroes for Hire series) who assembles a team of villains for a super secret project.