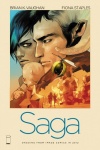 Comic-Con News—Today Y: The Last Man creator Brian K. Vaughan appeared at the Image Comics Panel and announced that he was writing a new creator-owned title that will be published by Image. In Saga Vaughan returns to familiar science fiction turf in the saga of a very unusual family attempting to survive a galactic war.
Co-creator Fiona Staples (Mystery Society) will provide the art for Saga, which will be an ongoing monthly comic book series. Saga, which Vaughan described as "balls to the walls" science fiction, is expected to debut in 2012 with a 44-page first issue with no ads.
Vaughan claims that he has no ambition to turn Saga, which he is planning as an extended series that will go on for years, into a movie or TV show, saying that the comic should be a "destination" not merely a blueprint for a movie or a TV series.