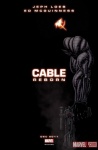 Comic-Con News—The big announcements at Marvel's Cup o' Joe panel were the resurrection of the popular X-Men character Cable, who perished in the Messiah Complex saga, but who is coming back courtesy of Jeph Loeb and Ed McGuinness in December and that Marvel was initiating another round of Point One titles starting in November.
Marvel's EIC Axel Alonso believes that Cable will be one of "breakout" Marvel characers of 2012, and Loeb is just happy to be back doing one of the characters that worked on when he first came to Marvel, back in the day (the early 1990s) when comics were still "on paper," as he jokingly put it.
The other big announcement of the panel was a new batch of the Point One titles that will hit retail starting in November. As was the case with the first wave of Point One books, the emphasis will once again be on easy accessibility for new readers, but this wave will also contain elements that will lead in to Marvel's big "events" in 2012.