Comic-Con News—In October Dark Horse will release Orchid, a comic created by Rage Against the Machine guitarist Tom Morello. Morello, who is one of the most politically active figures in the current music scene, brings his crusade for social justice to comics with Orchid, which is the dystopian saga of a future world ravaged by rising sea levels. The title character is a teenage prostitute, who leads a revolt against a corrupt society where the rich, who have taken the high ground for their walled cities and compounds, have utterly dominated the poor.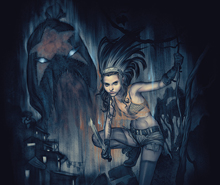 Morello sent his class conscious script for
Orchid
to Gerard Way, the front man for My Chemical Romance and creator of
The Umbrella Academy
, who forwarded it to his publisher Dark Horse. Scott Hepburn will provide the art for
Orchid,
which Dark Horse is planning to publish as three miniseries. Shepard Fairey , who created the famous Obama poster for the 2008 campaign, has fashioned a unique variant cover for the first issue of
Orchid
.