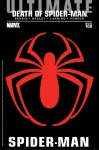 These are estimates of the sales on comic books by Diamond
U.S.
to comic specialty stores during June 2011.

For an overview and analysis of comic sales in June, see "Death of Spider-Man Tops 159K."

For an analysis of the dollar trends in June, see "Comics' Slide Continues in June."
For our estimates of actual sales by Diamond U.S. from comic specialty stores on graphic novels shipped during June, see "Top 300 Graphic Novels Actual--June 2011."
TOP 300 COMICS -- June 2011

Rank

Index

Title

Price

Pub

Est.Qty

1

300.03

ULTIMATE COMICS SPIDER-MAN #160

$3.99

MAR

159,355

2

180.03

FEAR ITSELF #3

$3.99

MAR

95,621

3

164.75

FLASHPOINT #2

$3.99

DC

87,505

4

120.61

AVENGERS #14

$3.99

MAR

64,057

5

110.94

FF #5

$2.99

MAR

58,925

6

108.60

NEW AVENGERS #13

$3.99

MAR

57,682

7

107.39

AMAZING SPIDER-MAN #663

$3.99

MAR

57,040

8

105.64

BATMAN INCORPORATED #7

$2.99

DC

56,108

9

103.52

BATMAN AND ROBIN #24

$2.99

DC

54,984

10

103.19

AMAZING SPIDER-MAN #664

$3.99

MAR

54,808

11

102.20

UNCANNY X-MEN #539

$3.99

MAR

54,284

12

101.53

GREEN LANTERN EMERALD WARRIORS #11

$2.99

DC

53,927

13

100.39

UNCANNY X-MEN #538

$3.99

MAR

53,319

14

100.16

UNCANNY X-FORCE #11

$3.99

MAR

53,199

15

100.00

BATMAN #711

$2.99

DC

53,113

16

97.77

BRIGHTEST DAY AFTERMATH THE SEARCH #1

$2.99

DC

51,928

17

97.46

ULTIMATE COMICS SPIDER-MAN #159

$3.99

MAR

51,766

18

93.95

SECRET AVENGERS #14 FEAR

$3.99

MAR

49,898

19

90.59

MIGHTY THOR #3

$3.99

MAR

48,114

20

88.21

ALPHA FLIGHT #1

$3.99

MAR

46,851

21

86.20

X-MEN #12

$3.99

MAR

45,786

22

85.56

JUSTICE LEAGUE OF AMERICA #58

$2.99

DC

45,442

23

84.97

FLASHPOINT BATMAN KNIGHT OF VENGEANCE #1

$2.99

DC

45,129

24

84.86

X-MEN LEGACY #250

$4.99

MAR

45,070

25

84.34

CAPTAIN AMERICA #619

$3.99

MAR

44,796

26

84.09

X-MEN #13

$3.99

MAR

44,665

27

81.86

X-MEN LEGACY #251

$2.99

MAR

43,479

28

80.59

ULTIMATE AVENGERS VS NEW ULTIMATES #5

$3.99

MAR

42,803

29

80.35

WOLVERINE #10

$3.99

MAR

42,677

30

79.69

INVINCIBLE IRON MAN #505 FEAR

$3.99

MAR

42,327

31

79.00

ACTION COMICS #902

$2.99

DC

41,960

32

78.72

WOLVERINE #11

$3.99

MAR

41,813

33

78.35

FLASHPOINT ABIN SUR THE GREEN LANTERN #1

$2.99

DC

41,612

34

74.19

FLASHPOINT HAL JORDAN #1

$2.99

DC

39,404

35

73.71

DETECTIVE COMICS #878

$2.99

DC

39,152

36

73.33

VENOM #4

$2.99

MAR

38,946

37

71.63

FLASHPOINT PROJECT SUPERMAN #1

$2.99

DC

38,045

38

70.34

SUPERMAN #712

$2.99

DC

37,362

39

69.90

ASTONISHING X-MEN #39

$3.99

MAR

37,127

40

68.47

FLASHPOINT WONDER WOMAN AND THE FURIES #1

$2.99

DC

36,365

41

68.45

FLASHPOINT THE WORLD OF FLASHPOINT #1

$2.99

DC

36,358

42

68.34

FLASHPOINT EMPEROR AQUAMAN #1

$2.99

DC

36,297

43

67.47

JOURNEY INTO MYSTERY #624 FEAR

$2.99

MAR

35,834

44

66.52

MOON KNIGHT #2

$3.99

MAR

35,333

45

65.39

ULTIMATE COMICS X #5

$3.99

MAR

34,730

46

64.29

FLASHPOINT KID FLASH LOST #1

$2.99

DC

34,148

47

62.26

FLASHPOINT SECRET SEVEN #1

$2.99

DC

33,069

48

62.07

FLASHPOINT CITIZEN COLD #1

$2.99

DC

32,969

49

62.04

FLASHPOINT DEADMAN AND THE FLYING GRAYSONS #1

$2.99

DC

32,950

50

61.29

FLASHPOINT THE REVERSE FLASH #1

$2.99

DC

32,554

51

60.60

FLASHPOINT DEATHSTROKE THE CURSE OF RAVAGER #1

$2.99

DC

32,188

52

60.60

WALKING DEAD #86 (MR)

$2.99

IMA

32,187

53

58.98

FLASHPOINT LOIS LANE AND THE RESISTANCE #1

$2.99

DC

31,325

54

58.83

FLASHPOINT LEGION OF DOOM #1

$2.99

DC

31,244

55

58.63

BATMAN ARKHAM CITY #2

$2.99

DC

31,141

56

58.13

WONDER WOMAN #611

$2.99

DC

30,874

57

57.78

WONDER WOMAN #612

$2.99

DC

30,690

58

57.44

FLASHPOINT FRANKENSTEIN CREATURES OF UNKNOWN #1

$2.99

DC

30,508

59

57.36

AVENGERS CHILDRENS CRUSADE #6

$3.99

MAR

30,467

60

56.93

FEAR ITSELF SPIDER-MAN #2

$2.99

MAR

30,238

61

56.54

FLASHPOINT THE OUTSIDER #1

$2.99

DC

30,030

62

55.34

HULK #34

$2.99

MAR

29,391

63

55.06

GREEN LANTERN MOVIE PREQUEL HAL JORDAN #1

$2.99

DC

29,245

64

54.80

CARNAGE #5

$3.99

MAR

29,106

65

54.59

BIRDS OF PREY #13

$2.99

DC

28,992

66

54.07

SHIELD #1

$3.99

MAR

28,718

67

53.73

HULK #35

$2.99

MAR

28,539

68

53.55

BATMAN ARKHAM CITY #3

$2.99

DC

28,443

69

53.51

THUNDERBOLTS #158 FEAR

$2.99

MAR

28,422

70

53.47

DEADPOOL #39

$2.99

MAR

28,400

71

53.41

RED ROBIN #24

$2.99

DC

28,367

72

53.39

FLASHPOINT GREEN ARROW INDUSTRIES #1

$2.99

DC

28,358

73

53.15

FEAR ITSELF DEADPOOL #1

$2.99

MAR

28,227

74

52.77

INCREDIBLE HULKS #630

$2.99

MAR

28,028

75

52.43

NEW MUTANTS #26

$2.99

MAR

27,848

76

52.36

DEADPOOL #38

$2.99

MAR

27,809

77

52.30

BATMAN GATES OF GOTHAM #2

$2.99

DC

27,777

78

51.93

SUPERMAN BATMAN #85

$2.99

DC

27,581

79

51.87

GREEN ARROW #13

$2.99

DC

27,552

80

51.71

THUNDERBOLTS #159 FEAR

$4.99

MAR

27,463

81

51.69

INCREDIBLE HULKS #631

$2.99

MAR

27,456

82

51.32

X-MEN PRELUDE TO SCHISM #3

$2.99

MAR

27,258

83

51.20

JUSTICE SOCIETY OF AMERICA #52

$2.99

DC

27,195

84

50.02

X-MEN PRELUDE TO SCHISM #4

$2.99

MAR

26,565

85

49.66

AVENGERS ACADEMY #15

$2.99

MAR

26,378

86

49.61

FLASHPOINT GRODD OF WAR #1

$2.99

DC

26,348

87

49.30

BOOSTER GOLD #45

$2.99

DC

26,183

88

49.03

KIRBY GENESIS #1

$3.99

DE

26,039

89

48.92

X-23 #11

$2.99

MAR

25,985

90

48.46

FEAR ITSELF HOME FRONT #3

$3.99

MAR

25,738

91

48.00

GREEN LANTERN MOVIE PREQUEL KILOWOG #1

$2.99

DC

25,496

92

47.15

INCREDIBLE HULKS ANNUAL #1

$3.99

MAR

25,041

93

46.93

X-FACTOR #220

$2.99

MAR

24,926

94

46.86

GREEN LANTERN MOVIE PREQUEL ABIN SUR #1

$2.99

DC

24,890

95

46.75

GHOST RIDER #0 POINT ONE

$2.99

MAR

24,830

96

46.71

GREEN LANTERN MOVIE PREQUEL TOMAR RE #1

$2.99

DC

24,811

97

46.55

DAKEN DARK WOLVERINE #10

$2.99

MAR

24,724

98

46.17

BATMAN BEYOND #6

$2.99

DC

24,524

99

46.13

X-FACTOR #221

$2.99

MAR

24,502

100

45.26

SUPERBOY #8

$2.99

DC

24,037

101

44.90

TEEN TITANS #96

$2.99

DC

23,849

102

44.24

AVENGERS ACADEMY #14 POINT ONE

$2.99

MAR

23,499

103

44.18

FEAR ITSELF DEEP #1

$2.99

MAR

23,467

104

43.91

BATGIRL #22

$2.99

DC

23,323

105

43.21

FLASHPOINT THE CANTERBURY CRICKET #1

$2.99

DC

22,948

106

42.55

LEGION OF SUPER HEROES #14

$2.99

DC

22,600

107

42.21

FEAR ITSELF FEARSOME FOUR #1

$2.99

MAR

22,418

108

41.52

CAPTAIN AMERICA CORPS #1

$2.99

MAR

22,050

109

41.42

WOLVERINE BEST THERE IS #7

$3.99

MAR

22,001

110

40.80

IRON AGE ALPHA #1

$2.99

MAR

21,671

111

40.68

ANNIHILATORS #4

$4.99

MAR

21,604

112

40.18

FEAR ITSELF BLACK WIDOW #1 FEAR

$3.99

MAR

21,340

113

40.08

GOTHAM CITY SIRENS #24

$2.99

DC

21,288

114

39.94

ADVENTURE COMICS #527

$2.99

DC

21,211

115

39.83

MARVEL UNIVERSE VS WOLVERINE #1

$3.99

MAR

21,155

116

39.51

SUPERGIRL #65

$2.99

DC

20,985

117

39.40

HELLBOY THE FURY #1

$2.99

DAR

20,928

118

38.95

SILVER SURFER #5

$2.99

MAR

20,686

119

38.36

FEAR ITSELF YOUTH IN REVOLT #2

$2.99

MAR

20,376

120

37.44

BLACK PANTHER MAN WITHOUT FEAR #519

$2.99

MAR

19,883

121

37.28

IRON MAN 2.0 #6 FEAR

$2.99

MAR

19,798

122

37.24

TITANS #36

$2.99

DC

19,780

123

36.83

SECRET SIX #34

$2.99

DC

19,562

124

36.53

BLACK PANTHER MAN WITHOUT FEAR #520

$2.99

MAR

19,400

125

36.03

IRON AGE #1

$4.99

MAR

19,135

126

35.55

GENERATION HOPE #8

$2.99

MAR

18,883

127

35.32

DC UNIVERSE ONLINE LEGENDS #9

$2.99

DC

18,759

128

34.84

FABLES #106 (MR)

$2.99

DC

18,505

129

34.51

BOYS #55 (MR)

$3.99

DE

18,330

130

34.23

DC UNIVERSE ONLINE LEGENDS #10

$2.99

DC

18,178

131

34.09

HERC #4 FEAR

$2.99

MAR

18,106

132

33.94

HEROES FOR HIRE #8

$2.99

MAR

18,029

133

33.82

PUNISHERMAX #14 (MR)

$3.99

MAR

17,965

134

33.62

ZATANNA #14

$2.99

DC

17,856

135

33.26

DARK TOWER GUNSLINGER BATTLE OF TULL #1

$3.99

MAR

17,667

136

33.22

STAR WARS OLD REPUBLIC #1 LOST SUNS

$3.50

DAR

17,642

137

32.48

POWER GIRL #25

$2.99

DC

17,251

138

32.46

JSA 80 PAGE GIANT 2011 #1

$5.99

DC

17,242

139

32.31

AMERICAN VAMPIRE SURVIVAL OT FITTEST #1 (MR)

$2.99

DC

17,160

140

31.36

MYSTERY MEN #1

$2.99

MAR

16,657

141

30.62

BATMAN AND THE OUTSIDERS #40

$2.99

DC

16,265

142

30.28

STAR WARS JEDI DARK SIDE #2

$2.99

DAR

16,081

143

29.75

DEADPOOLMAX #9 (MR)

$3.99

MAR

15,802

144

29.57

AMERICAN VAMPIRE #16 (MR)

$2.99

DC

15,705

145

29.30

INVINCIBLE #80

$2.99

IMA

15,563

146

28.71

SUPREME POWER #1 (MR)

$3.99

MAR

15,251

147

28.08

ROCKETEER ADVENTURES #2

$3.99

IDW

14,912

148

27.96

CRIMINAL LAST OF INNOCENT #1 (MR)

$3.50

MAR

14,849

149

27.26

STAND NO MANS LAND #5

$3.99

MAR

14,480

150

27.24

SPAWN #208

$2.99

IMA

14,468

151

27.04

HAUNT #16

$2.99

IMA

14,360

152

26.43

WARLORD OF MARS #7

$3.99

DE

14,038

153

26.29

MARVEL ZOMBIES SUPREME #5

$3.99

MAR

13,962

154

25.70

VAMPIRELLA #6

$3.99

DE

13,649

155

25.69

VAMPIRELLA #7

$3.99

DE

13,645

156

25.58

WARLORD OF MARS DEJAH THORIS #4

$3.99

DE

13,584

157

25.51

CONAN ISLAND OF NO RETURN #1

$3.50

DAR

13,547

158

25.03

GODZILLA GANGSTERS & GOLIATHS #1

$3.99

IDW

13,292

159

24.91

ZOMBIES CHRISTMAS CAROL #2

$3.99

MAR

13,231

160

24.46

MYSTERY MEN #2

$2.99

MAR

12,993

161

24.11

KA-ZAR #1

$2.99

MAR

12,805

162

24.10

CINDERELLA FABLES ARE FOREVER #5 (MR)

$2.99

DC

12,799

163

23.71

WITCH DOCTOR #1

$2.99

IMA

12,592

164

23.58

CONAN ROAD OF KINGS #6

$3.50

DAR

12,523

165

23.38

DANGER GIRL ARMY OF DARKNESS #2

$3.99

DE

12,417

166

22.90

ZOMBIES CHRISTMAS CAROL #2

$3.99

MAR

12,164

167

22.56

SONIC THE HEDGEHOG #225

$2.99

ARC

11,980

168

22.28

ALL WINNERS SQUAD BAND OF HEROES #1

$2.99

MAR

11,836

169

21.92

GI JOE VOL 2 ONGOING #2

$3.99

IDW

11,640

170

21.61

WALKING DEAD SURVIVORS GUIDE #3 (MR)

$2.99

IMA

11,479

171

21.50

BPRD DEAD REMEMBERED #3

$3.50

DAR

11,418

172

21.44

MORNING GLORIES #10

$2.99

IMA

11,385

173

21.30

DARK HORSE PRESENTS #2

$7.99

DAR

11,315

174

21.24

NAMOR FIRST MUTANT #11

$2.99

MAR

11,281

175

20.88

SKAAR KING OF SAVAGE LAND #4

$2.99

MAR

11,090

176

20.67

UNWRITTEN #26 (MR)

$2.99

DC

10,979

177

20.07

CAPTAIN AMERICA FIRST VENGEANCE #3

$2.99

MAR

10,660

178

19.83

RUSE #4

$2.99

MAR

10,532

179

19.57

GREEN HORNET #16

$3.99

DE

10,396

180

19.47

ARTIFACTS #8

$3.99

IMA

10,343

181

19.43

CAPTAIN AMERICA FIRST VENGEANCE #4

$2.99

MAR

10,322

182

19.43

IZOMBIE #14 (MR)

$2.99

DC

10,320

183

19.29

SNAKE EYES ONGOING (IDW) #2

$3.99

IDW

10,246

184

19.26

TRANSFORMERS ONGOING #20

$3.99

IDW

10,232

185

19.25

JONAH HEX #68

$2.99

DC

10,224

186

19.07

COBRA ONGOING #2

$3.99

IDW

10,128

187

19.05

GI JOE A REAL AMERICAN HERO #167

$3.99

IDW

10,118

188

18.78

STATIC SHOCK SPECIAL #1

$2.99

DC

9,976

189

18.49

VAMPIRELLA SCARLET LEGION #2

$3.99

DE

9,818

190

18.42

IRREDEEMABLE #26

$3.99

BOO

9,784

191

18.26

WOLVERINE HERCULES MYTHS MONSTERS AND MUTANTS #4

$2.99

MAR

9,696

192

18.18

CROSSED PSYCHOPATH #3 (MR)

$3.99

AVA

9,655

193

18.01

LADY DEATH (ONGOING) #6 (MR)

$3.99

AVA

9,563

194

17.87

GUILD BLADEZZ ONE SHOT #1 KERSCHL CVR

$3.50

DAR

9,490

195

17.56

HELLBLAZER #280 (MR)

$2.99

DC

9,329

196

17.37

SONIC THE HEDGEHOG #226

$2.99

ARC

9,228

197

17.37

DUNGEONS AND DRAGONS #8

$3.99

IDW

9,226

198

17.33

GOON #34

$3.50

DAR

9,203

199

17.17

50 GIRLS 50 #1

$2.99

IMA

9,121

200

16.94

WITCHBLADE #145

$3.99

IMA

8,996

201

16.92

YOUNG JUSTICE #5

$2.99

DC

8,988

202

16.86

THUNDER AGENTS #8

$2.99

DC

8,954

203

16.84

SUPER DINOSAUR #3

$2.99

IMA

8,943

204

16.81

SIGIL #4

$2.99

MAR

8,930

205

16.69

FLASHPOINT #1

$3.99

DC

8,864

206

16.53

WITCHFINDER LOST & GONE FOREVER #5

$2.99

DAR

8,777

207

16.33

OZMA OF OZ #7

$3.99

MAR

8,672

208

16.32

HACK SLASH #5 CVR A FRISON (MR)

$3.50

IMA

8,666

209

16.07

WEIRD WORLDS #6

$3.99

DC

8,536

210

16.03

SPONGEBOB COMICS #3

$2.99

UNI

8,514

211

16.02

FATHOM PRIMER #1

$1.00

ASP

8,508

212

15.70

TERRY MOORES ECHO #30

$3.50

ABS

8,340

213

15.66

FATHOM VOL 4 #0 CVR A KONAT

$2.50

ASP

8,317

214

15.54

SWEET TOOTH #22 (MR)

$2.99

DC

8,252

215

15.34

FLY #1 A CVR EBAS (MR)

$2.99

ZEN

8,148

216

15.33

GRIMM FAIRY TALES #60 (MR)

$2.99

ZEN

8,143

217

15.25

INFESTATION OUTBREAK #1

$3.99

IDW

8,098

218

15.23

JOHN BYRNE NEXT MEN #7

$3.99

IDW

8,090

219

14.71

TINY TITANS #41

$2.99

DC

7,811

220

14.69

INCORRUPTIBLE #19

$3.99

BOO

7,804

221

14.69

PLANET OF THE APES #3

$3.99

BOO

7,804

222

14.52

MEGA MAN #2

$2.99

ARC

7,713

223

14.40

SUICIDE GIRLS #3 (MR)

$3.99

IDW

7,649

224

14.34

INCREDIBLE HULK & HUMAN TORCH FROM MARVEL VAULT #1

$2.99

MAR

7,616

225

14.33

GFT MYTHS & LEGENDS #6

$2.99

ZEN

7,612

226

14.27

DOCTOR WHO ONGOING VOL 2 #6

$3.99

IDW

7,580

227

14.27

GFT MYTHS & LEGENDS #5 A CVR RHANDOLPH (MR)

$2.99

ZEN

7,578

228

14.25

GODZILLA KINGDOM OF MONSTERS #4

$3.99

IDW

7,570

229

14.12

XOMBI #4

$2.99

DC

7,500

230

13.99

TRANSFORMERS HEART OF DARKNESS #4

$3.99

IDW

7,431

231

13.77

SAMURAIS BLOOD #1 (MR)

$1.00

IMA

7,312

232

13.74

GREEN HORNET YEAR ONE #10

$3.99

DE

7,300

233

13.63

QUEEN SONJA #17

$3.99

DE

7,241

234

13.28

30 DAYS OF NIGHT NIGHT AGAIN #2

$3.99

IDW

7,055

235

13.27

SOULFIRE VOL 3 #1 CVR A FABOK

$2.99

ASP

7,048

236

13.12

MAGDALENA #7 CVR A CHA

$3.99

IMA

6,968

237

13.09

NORTHLANDERS #41 (MR)

$2.99

DC

6,954

238

13.05

EXECUTIVE ASSISTANT IRIS VOL 2 #0 CVR A FRANCISCO

$2.50

ASP

6,929

239

13.02

SONIC UNIVERSE #29

$2.99

ARC

6,917

240

13.02

SIMPSONS COMICS #179

$2.99

BON

6,913

241

13.02

WONDERLAND GFT DREAM EATER ONE SHOT (PT 4) (MR)

$3.99

ZEN

6,913

242

12.99

DOC SAVAGE #15

$2.99

DC

6,902

243

12.98

ANITA BLAKE CIRCUS OF DAMNED INGENUE #4 (MR)

$3.99

MAR

6,893

244

12.95

GFT PIPER DREAM EATER CROSSOVER (PT 2) (MR)

$2.99

ZEN

6,877

245

12.93

GFT WONDERLAND ANNUAL 2011 A CVR CHEN

$5.99

ZEN

6,869

246

12.77

CAPTAIN AMERICA REBIRTH #1

$4.99

MAR

6,780

247

12.73

HOUSE OF MYSTERY #38 (MR)

$2.99

DC

6,763

248

12.62

NEVERLAND GFT DREAM EATER ONE SHOT (PT 5) (MR)

$2.99

ZEN

6,701

249

12.60

SPIRIT #15

$2.99

DC

6,693

250

12.51

ALL NEW BATMAN THE BRAVE AND THE BOLD #8

$2.99

DC

6,645

251

12.49

DEATH OF ZORRO #4

$3.99

DE

6,634

252

12.32

CALIGULA #2 (MR)

$3.99

AVA

6,543

253

12.18

SCALPED #50 (MR)

$2.99

DC

6,471

254

12.18

LAST PHANTOM #7

$3.99

DE

6,470

255

11.99

DEATH OF ZORRO #5

$3.99

DE

6,370

256

11.98

TURF #5 (MR)

$2.99

IMA

6,361

257

11.92

SCALPED #49 (MR)

$2.99

DC

6,333

258

11.88

CAPTAIN AMERICA AMERICAS AVENGER #1

$4.99

MAR

6,311

259

11.86

KEVIN SMITH KATO #10

$3.99

DE

6,297

260

11.85

HACK SLASH MEETS ZOMBIES VS CHEERLEADERS #1

$3.99

MOO

6,293

261

11.69

CREEPY COMICS #6

$4.99

DAR

6,210

262

11.69

DARKNESS #91 (MR)

$2.99

IMA

6,207

263

11.56