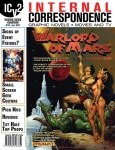 Sales of periodical comics showed few signs of coming around in the second quarter in spite of the apparently successful launch of "comic book events" by Marvel and DC according to a report in ICv2's
Internal Correspondence
#76.
Comic book sales were down over 8% in the direct market and the launches of Marvel's
Fear Itself
and DC's
Flashpoint
, while successful, didn't match similar event launches in previous years. Retailers reported to ICv2 that while the core event titles were doing well for both
Fear Itself
and
Flashpoint
, the tie-in books, especially those featuring less popular characters, were not seeing the kind of sales bump that similar books had experienced in the past. The rather large drop in dollar sales of comic books results from a decline in unit sales coupled with a price drop in cover prices, which unfortunately has not, at least at this point, stimulated increases in circulation.
While graphic novel sales were growing in the bookstore market during the first half of 2011, they were declining in the comic shops where they have been hurt by the lack of a major media-driven sales driver like last summer's
Scott Pilgrim
movie. Retailers report that this summer's comic book-movie related titles (
Thor
,
X-Men: First Class
,
Green Lantern
, and
Captain America)
have had only a minimal sales impact, and the primary TV sales driver, AMC's adaptation of Robert Kirkman's
The Walking Dead
, is off the air until October.
The outlook for the manga market in North America may look even bleaker, especially with the abrupt departure of market pioneer Tokyopop, which was largely a victim of the demise of Borders, the nation's second largest bookstore chain and once the great champion of manga and graphic novels in the mainstream market. But
Internal Correspondence
points out that the decline in manga sales actually slowed during the first half of 2010 as Yen Press emerged as a strong #2 publisher. While direct market retailers who deal in manga report distribution difficulties have increased, manga sales remain a significant portion of the overall graphic novel, especially in the bookstore market.
Here are ICv2's top graphic novel properties across eight categories for:
Top 10 Genre Properties--Q1 & Q2 2011
Top 10 Fiction & Reality Titles--Q1 & Q2 2011
Top 10 Superhero Properties--Q1 & Q2 2011
Top 5 Comic Strip Properties--Q1 & Q2 2011
Top 10 Kids & Tweens GN Properties--Q1 & Q2 2011
Top 10 Shojo Properties--Q1 & Q2 2011
Top 10 Shonen Properties--Q1 & Q2 2011
Top 25 Manga Properties--Q1 & Q2 2011
For info on how to get your copy of the ICv2's
Internal Correspondence
#76 with the full market reports, Pick Hits of the best upcoming releases, and reviews, see "
ICv2 Releases 'Internal Corresondence' #76
."