We caught up with Steve Jackson of Steve Jackson Games at the recent ACD Games Day, where he shared details of plans for the popular Munchkin card game.
The new Christmas-themed Munchkin: Reindeer Games booster set will release shortly. This will be the third Christmas booster for the game. Reindeer Games will include 15 new cards, and will have a suggested retail price of $4.95.
As a special incentive, Steve Jackson is offering a Munchkin Reindeer Games Launch Kit for retailers who purchase a full display of 10 Reindeer Games boosters. The Launch Kit features a Munchkin-branded POP display with room for six different Munchkin boosters. The sturdy display will be free to any retailer who purchases the full Reindeer Games ten-pack display.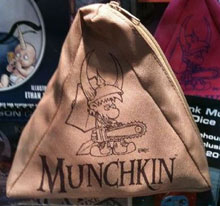 A pyramid-shaped
Munchkin Dice Bag
is also planned for release this month. The bag will come with two special
Munchkin
cards, and sell for $9.95.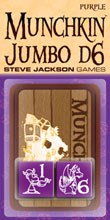 Along with the Dice Bag will be six different colors of
Munchkin Jumbo D6
dice. Each die will be packaged with a unique set of two
Munchkin
cards, different for each color of die. Suggested retail price will be $5.95 each.
October will finally see the release of
Munchkin: Axe Cop
, originally announced in May (see "
Axe Cop Expansion for Munchkin
"). Based on the popular webcomic and Dark Horse graphic novel, this will be a
Munchkin
core set which can be played separately or combined with other
Munchkin
titles.
Jackson was extremely enthusiastic about the project. Describing it as "fantastic," he said, "I had so much fun doing it. It fits Munchkin perfectly, because Axe Cop kills bad guys and takes their stuff, and that's what you do in Munchkin. So, it was just beautiful."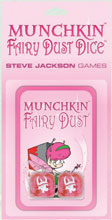 Another Christmas-themed
Munchkin
accessory is planned for release in November. The
Munchkin Jolly Jumbo D6
will be a blister pack set featuring a 25mm six-sided die illustrated with John Kovalic art and four new
Munchkin
cards. There will be two different colors, each packed separately with a retail price of $6.95.