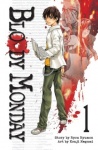 Bloody Monday Vol. 1 (Manga)
Publisher: Kodansha Comics
Release Date: August 2011
Price: $10.99
Creator(s): Ryou Ryumon (writer) and Kouji Megumi (artist)
Format: 208 pgs.; b&w; Paperback
ISBN: 978-1-9354-2922-7
Age Rating: Teen
ICv2 Rating: 3 Stars out of 5
By day Takagi is an ordinary Japanese high school student but by mid-afternoon he's the hacker known as Falcon uses his incredible computer skills to take down abusive teachers and help his father, an agents of the intelligence agency known as Third-I. But the different components of his life collide when his father is framed for murder and while trying to clear his name Takagi opens a file named "Bloody Monday" that contains information about a biological weapon that could kill millions.
There are plenty of movies, books and comics featuring teenage spies as heroes but precious few with the more feasible premise of teen hackers getting involved in espionage. The first volume of
Bloody Monday
does a fine job of crafting a teen hacker hero who's everyday life is as believable as his covert operations.
It also manages to subvert a lot of the standard manga tropes, like that fan service staple the full figured teacher that seems incapable of dressing appropriately for class and seems to spend more money on her underwear than her clothes. Here not only is she immediately busted for this behavior by the female members of the class (as well as for "looking like an adult video actress") there's actually a good reason for her to be teaching high school in the first place.
Bloody Monday
is an expertly executed spy thriller packed with extras to help explain everything from hacking terms to the nuances of Japanese high school life. It should definitely appeal to its intended audience of teens.
--
Steve Bennett: Writer and retail services consultant.