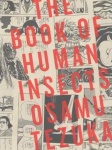 The Book of Human Insects HC (Manga)
Publisher: Vertical
Release Date: September 2011
Price: $21.95
Creator: Osamu Tezuka
Format: 304 pgs., b&w; Hardcover
ISBN: 978-1-9356-5420-9
Age Rating: Mature
ICv2 Rating 4 out of 5 stars
Actress, author, architect, Toshikio Tomura is a gorgeous celebrity who excels at everything she attempts but secretly is just a talented mimic who can only imitate, or failing that, steal the work of others she then passes off as her own. And as she successfully navigates her way through the worlds of entertainment, high finance and organized crime she leaves in her wake a trail of broken lovers and shattered lives.
Even those who have read Osamu Tezuka's
Buddha
series are likely to be startled by the level of sexual content and violence in
The Book of Insects
. It's a unrelentingly nihilistic and brutal examination of its central character, a sociopath capable of blackmail and murder to get what she wants.
The story itself is mostly a loose series of events as we watch Toshiko wander from career to career, yet despite this modern approach to the material Tesuka isn't above propelling what passes for a plot by using old fashioned storytelling devices. Such as convenient chance meetings or Toshiko's unlikely discovery she has a physical double.
It's an unbelievably bleak, unsentimental indictment of human life that makes no attempt to impart anything like a moral, ending with a conclusion that's as cold as its main character. But ultimately it's a compelling work, meant for a genuinely mature audience, skillfully told by the undisputed master of manga.
--
Steve Bennett: Writer and retail services consultant.