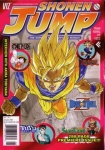 Starting in January of 2012 manga readers in North America will be able to subscribe to the Weekly Shonen Jump Alpha, a digital version of Japan's leading manga anthology magazine, which will be available with official English language translations of all the magazines stories and features just two weeks after the print version appears in Japan. The first issue of the Weekly SJ Alpha goes on sale on January 30th, 2012 and will be available through Viz Manga.com and the Viz Manga apps for the iPad, iPhone, and iPod touch. With the publication of the digital version of Shonen Jump, Viz Media plans to phase out the North American print edition of the manga anthology. The final tear-stained issue of the American version of Shonen Jump, which was launched in 2003 and played a key role in stimulating the manga boom, will be the April 2012 issue, which will ship to stores and newsstands in March.
The lineup of the Weekly Shonen Jump Alpha includes many of the most popular manga series in both Japan and the U.S. including Naruto, Bleach, One Piece, Bakuman, Nura: Rise of the Yokai Clan, and Toriko. Readers will be able to purchase an annual subscription, good for 48 issues over 52 weeks, for $25.99, or they can rent single issues for a four-week period for ninety-nine cents. Each issue, once received on one device, can be read on all other enabled devices via the integrated Viz manga app and Website.
When asked why there was going to be a two-week delay in between the appearance of Shonen Jump in Japan and the digital Shonen Jump Alpha in North America, Viz Media's Senior VP and General Manager Alvin Lu said: "We wanted to give ourselves some room for improvement. If we can get this right, we will close the two-week gap in the future."
In order to prepare North American readers for the launch of the
Weekly SJ Alpha
, Viz Media is offering the "Shonen Jump Digital Warp," a limited collection of digital graphic novel speed-ups that will bring American readers up to date with the
Shonen Jump
manga series. In some cases this means that the digital speed-ups will jump ahead of print publication of those manga collections here in North America. The Digital Warp speed-up began with
Naruto
(see "
Viz Media Releasing 7 Volumes of Naruto in 7 Days
") and will proceed with
Bleach
and other
Shonen Jump
titles.
Viz Media's embrace of digital publishing reflects the nature of the largely computer-savvy audience it serves and the specific problems posed by fan-translated "scanlations" of manga released in Japan that have been available to North American fans often years before the arrival of officially translated print copies. As a major purveyor of anime as well as manga, Viz Media also saw first hand how Internet piracy nearly wiped out the once burgeoning North American anime market. Providing reasonably-priced, value-added digital alternatives to piracy is a strategy that was not available (for a number of technical and contract-related reasons) to North American anime companies during the crucial 2005-2009 period that saw the market contract. Given the intractable nature of the Internet piracy problem, Viz Media's latest moves appear to be quite adroit.