New York Comic Con News--BOOM! Studios has announced a four-issue crossover involving Mark Waid's signature creations Irredeemable and Incorruptible, which have earned him multiple Eisner nominations. The epic match-up between The Plutonian and Max Damage begins in Irredeemable #32 and Incorruptible #25 and concludes in Irredeemable #33 and Incorruptible #26. Mark Waid is writing all four issues with the art in Irredeemable provided by Diego Barreto, while Marcio Takara handles the art chores for Incorruptible.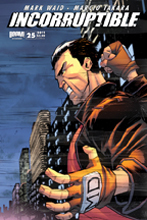 The Plutonian and Max Damage, the hero-turned-villain and the arch villain-turned-hero, have been getting after each other from the first issues of
Irredeemable
. The crossover event, which begins in December, chronicles the first face-off between these two supreme adversaries. Unlike many recent crossover events the
Irredeemable/Incorruptible
fracas will be concluded in two months in just four books.