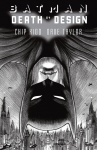 New York Comic Con News—At the New York Comic Con DC Comics announced that famed book designer Chip Kidd has been commissioned to write Batman: Death By Design, an original graphic novel that is due out in 2012. Kidd will work with artist Dave Taylor on the project, which in deference to its title, should also benefit from Kidd's design work.
But Kidd is much more than just a design maven. He has an extensive collection of
Batman
memorabilia, and he has edited and designed three Bat-related volumes including a lavish art book on the
Batman Animated
TV series, a book exploring the vast world of Batman collectibles (
Batman Collected
), and most recently, collections of Jiro Kuwata's "lost"
Bat-Manga
(see "
Bat-Manga: The Secret History of Batman in Japan
).