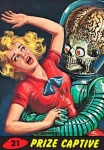 IDW will launch a Mars Attacks comic series, and Abrams Comicarts will publish a hardcover collection of Mars Attacks art, the first two products in what is promised as a series of major product launches featuring the property throughout 2012. The IDW comic series is part of what is called a "long-term partnership" with Topps for new comics based on Mars Attacks.
The Abrams Comicarts art book is focused on the early history of the property. Mars Attacks, originally a trading card set from Topps, was developed by Woody Gelman and Len Brown, who was inspired by the Wally Wood cover to EC Comics' Weird Science #17. Wood later produced a number of sketches as the concept was being developed; 30 of them are in the Abrams book. Co-creator Len Brown wrote the introduction. And the art reproduced in the book is all shot from the original transparencies, off the original art. The Wood art is only a portion of the development art for the concept, which originally was testmarketed with a different title and different art.
Next year is the 50th anniversary of the introduction of Mars Attacks trading cards by Topps. The paintings for the 1962 release, by famed illustrator Norm Saunders, created a cult sensation. The property had a second life in the mid-90s, with a new card set, comic books, and a toy line. The Tim Burton Mars Attacks! feature film was released in 1996.