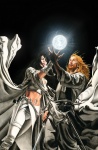 Dark Horse has announced several new
Star Wars
titles, including an origin story for the Jedi order and a death story for Boba Fett.
Star Wars: Dawn of the Jedi
will open a new time period in the
Star Wars
canon 25,000 years before the events of the films. The story begins with eight pyramid ships that go to the eight corners of the galaxy, and ends with the establishment of the Jedi Order of warrior monks. The series will be created by John Ostrander and Jan Duursema.
Star Wars: Dawn of the Jedi
#0 will debut on February 1, 2012; and
Star Wars: Dawn of the Jedi—Force Storm
#1 will street on February 15, 2012.
The events following the death of Boba Fett will occur in
Star Wars: Blood Ties—Boba Fett is Dead
. The series will be written by Tom Taylor, and launch in April 2012.
The next
Knight Errant
title, the five-issue arc
Star Wars: Knight Errant—Escape
, will launch in June 2012. It will feature stories by John Jackson Miller, pencils by Marco Castiello, Inks by Vincenzo Acunzo, colors by Michael Atiyeh, and lettering by Michael Heiser.
Star Wars: Darth Vader and the Ghost Prison
, a five issue miniseries by written by Haden Blackman, with art by Agustin Alessio, will launch in May 2012. The setting is a year after Revenge of the Sith, and in addition to Darth Vader, characters include Moff Trachta, who plays a key role.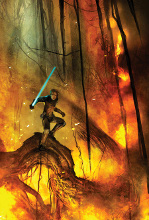 Star Wars: Knights of the Old Republic—War
, a new miniseries written by John Jackson Miller with cover by Benjamin Carre and a variant cover by Dave Wilkins, will launch on January 11, 2012. It's set during the war between the Republic and the Mandalorians, in which the Jedi are involved, and is being positioned as an entry point for readers interested in the
Star Wars
universe.