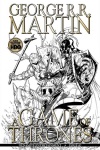 With a couple more data points available, it appears that Game of Thrones, based on the George R.R. Martin novels, is turning into a potent license in geek culture stores, with sellouts the norm. The first indication that this might be the case was the response to Fantasy Flight Games' Game of Thrones LCG, for which product evaporated as the show was aired. A second printing of the core GoT LCG product sold out in June, and it took until mid-summer for supply to reliably catch up with demand.
Now we're seeing the same phenomenon in comics, where Dynamite has sold out two printings of Game of Thrones #1, and is about to go back to press on Game of Thrones #2.
Both product lines, the Fantasy Flights Living Card Game and the Dynamite comics, have new product monthly. The second season of the HBO show will premiere in April (see "'
Game of Thrones' Season 2 Trailer
").