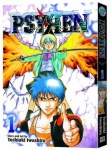 Psyren Vol. 1 (Manga)
Publisher: VIZ Media
Release Date: October 2011
Price: $9.99
Creator: Toshiaki Iwashiro
Format: 216 pgs; b&w; Trade Paperback
ISBN: 978-1-4215-3676-7
ICv2 Ratings: 2 out of 5 stars
Sakurako is your typical manga high school tough guy, the kind who likes to work off his nihilistic aggression through fighting but might secretly have a heart. But he has a soft spot for the classic "ice queen" Ageha, and once she goes missing he discovers her connection to something called the Psyren Secret Society. He finds her after he's been transported to the hellish world called Utopia where together they must fight horrific creatures if they ever want to go home.
Psyren
reads like a variation of the manga
Gantz
and unfortunately the little that's original here isn't very interesting. The premise hangs on a complicated and confusing urban legend where hundreds of people are being abducted by aliens (one called, apparently in all seriousness, Phantom Nemesis Q) through the use of red phone cards. Also somehow involved is an eccentric millionaire who's apparently willing to pay an enormous sum for any evidence of Psyren's existence. So some of the people are actually pleased that they've been abducted by aliens as they're under the impression it will lead to a big pay-day -- in spite of the fact that none of the vanished have ever returned..
It doesn't help that the execution of the material is barely adequate but
Psyren's
real weakness lies in it's characterization. Sakurako and Ageha may be overly familiar manga stereotypes but that's at least better than the frequently unpleasant cyphers that make up the rest of the cast.
--
Steve Bennett: Writer and retail services consultant.