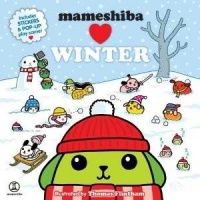 Mameshiba Love Winter HC
Publisher: VizKids (Viz Media)
Release Date: October 2011
Price: $12.99
Creator: Thomas Flintham (Illustrator)
Format: 12 pgs.; color; picture book
ISBN: 978-1-4215-4110-5
Age Rating: Not for under 3, due to stickers
ICv2 Rating: 2.5 Stars out of 5
Mameshiba
is a recent attempt to wrest the "cuteness crown" from the venerable
Hello Kitty
franchise and its competitors. The characters, various bean varieties with faces and ears, have a wide range of character personalities which would be better explored in a longer story. This tiny story is consists of designing and building a snow fort, easy enough for kids, but it should be tricky for handless beans. They seem to be able to throw snowballs with their ears, but how do they make them in the first place?
The book comes with stickers, so that kids can put together their own scenes in the snow castle at the back of the book. This is basically a toy made in the shape of a book.
Libraries and bookstores may find the packaging problematic, as the book seems aimed at very young children, but the labels warn parents that it is not for those under three. In addition, libraries will have to remove the stickers, which leaves the ending of the book having limited appeal.
For young children who have seen
Mameshiba
on television, this will have some appeal, but the story is very short, limited even for the picture book format. Those unfamiliar with the characters will be puzzled by several of the elements, including the ability of creatures with no hands to make and use tools and gadgets. The cuteness and the artwork are the only real strong points.
--
Nick Smith: Librarian Technician, Community Services, for the Pasadena Public Library in California.