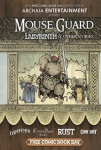 Diamond Comic Distributors has announced the Gold Level comics chosen by retailers for Free Comic Book Day 2012, and the impressive list of titles includes a FCBD first—a 48-page Mouse Guard original graphic novella from Archaia along with an impressive array of books for comic readers of all ages—the first free hardcover offering in FCBD history.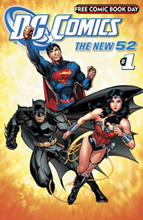 The eleventh Free Comic Book Day event is slated for Saturday May 12th, 2012. As makes perfect sense for this outreach effort, which is geared to engaging young readers and demonstrating to them the joys of reading comics, most of the Gold Level designees should have a strong appeal to young readers. In addition to
Mouse Guard
, Boom! Studios' has a
Peanuts/Adventure Time Flip Book
, and Bongo Comics, which consistently produces some of the most entertaining FCBD entries, is back with another
Bongo Free for All
, with
Simpsons
fun on one side and
SpongeBob SquarePants
on the other, while Oni Press has prepared a
Yo Gabba Gabba
comic, Archie Comics has a kid-friendly
Mega Man
book, both of which should, like the Bongo book, be attractive to the younger demographic thanks to all the properties' major TV exposure.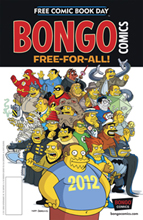 Other Gold Level entries skew a little older and should provide an excellent introduction to the superhero and genre comics that provide the bulk of comic sales in the direct market. DC Comics has produced a
The New 52
sampler, which is written and drawn by top creators and should provide a look at the major happenings in the publisher's revamped lineup in 2012.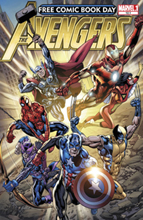 Marvel is providing
Avengers
#12.1 by Brian Michael Bendis and Bryan Hitch, which ties into a forthcoming event that features a battle between the Avengers and the Intelligencia.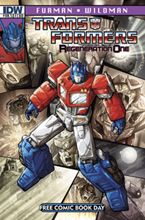 IDW has created
Transformers
#80.5, which returns the popular robot series to its original continuity, taking up right where 1991's
Transformers
#80 (published by Marvel) left off, and setting the stage for the continuation of the original continuity with the July debut of
Transformers
#81.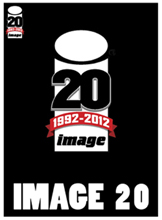 Dark Horse has a two-sided treat for genre comic book fans with a flip book that contains a
Star Wars
story featuring Han Solo and Chewbacca on one side and a new
Serenity
saga featuring Captain Mal Reynolds on the other.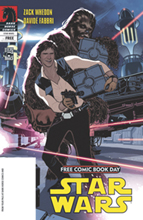 Image Comics has provided
Image 20
, an anthology featuring all-new stories featuring a mix of Image's original characters along with some of the independent publishers more recent properties.