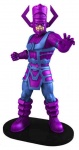 WizKids has released more images of and details about its
Galactic Guardians
HeroClix
release, which is currently slated for early April 2012 (see "
Galactic Guardians HeroClix
"). This expansion for the
Marvel HeroClix
game includes over 40 new figures that will be available in four different booster formats: standard five-figure boosters, as well as in a ten-figure single booster release, a six-figure
Fast Forces Pack
, and new
Super Boosters
, which each contain one of six new colossal figures.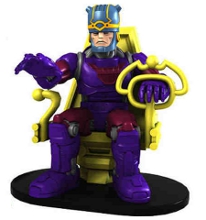 The scale of the colossal figures is quite remarkable. Figures of the size of
Galactus
and
Master Mold
have traditionally been reserved for Con giveaways and special promotions—now for the first time WizKids is putting these massive figures in easy-to-acquire
Super Booster
packs that will available from all retailers who carry the
HeroClix
product line.