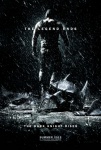 Excitement is starting to build for the seven-minute preview of
The Dark Knight Rises
that debuts on Friday along with
Mission Impossible: Ghost Protocol
at select IMAX theaters (see "
Want to See the Dark Knight Rises Prologue?
"). Now that principal photography is finished, director Christopher Nolan tore himself away from editing the film to introduce the preview of the footage at a showing in New York City. The footage spotlights the film's villain Bane (Tom Hardy), a mammoth brute who inhales a strength-maximizing drug through a bizarre gas mask-like contraption. It's no coincidence that Bane also dominates the new poster that Warner Bros. released for the movie (see "
Bane in TDKR Poster
").
In a lengthy interview with the
L.A. Times Hero Complex
, Nolan discussed his fascination with Bane, a Batman villain that David Goyer introduced him to: "I only knew him by name, I wasn't familiar with his back story. He's a very cool character. And getting an actor like Tom to take it on, you know you're going to get something very special."
Equally telling were Nolan's comments about the aspects of the Bane's character that make him so fascinating: "With Bane, the physicality is the thing. With a good villain you need an archetype, you know, you need the extreme of some type of villainy. The Joker is obviously a particular archetype of diabolical, chaotic anarchy and has a devilish sense of humor. Bane, to me, is something we haven't dealt with in the films. We wanted to do something very different in this film. He's a primarily physical villain, he's a classic movie monster in a way — but with a terrific brain."

The six-to-seven minute "prologue/teaser" for The Dark Knight Rises debuts nationwide on Friday. The film opens nationwide on July 30, 2012.