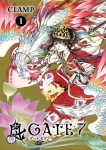 Gate 7 Vol. 1 TP (Manga)
Publisher: Dark Horse Comics
Release Date: November 2011
Price: $10.99
Creator: CLAMP
Format: 192 pgs.; B&W; Trade Paperback
ISBN: 978-1-59582-806-4
Age Rating: 14+
ICv2 Rating: 3 Stars out of 5
History lover Chikahito finally convinces his mother to let him visit Kyoto, only to find himself in a world of magic when he walks into the middle of a spell laid by the enigmatic Hana and her companions. Chikahito's immunity to their powers makes him unique and attracts the attention of men who should be long dead and the oni (demons) they are bound to by blood.
The latest release by manga powerhouse group CLAMP is sure to be celebrated by their longtime fans, but as this one seems less entangled with their previous works, it is likely to be enjoyed by new readers as well. All readers need to be comfortable with fantasy and history, since both feature prominently, but translator William Flanagan provides copious notes to help readers follow the nuances. The art, especially the characters and their outfits, is lush and gorgeous, leaving readers longing for color pages which are sadly not included. CLAMP's familiar chaotic motion lines have been toned down somewhat, making the action sequences easier to follow. The one negative is the photo reproductions of some of the settings. While they are probably meant to add a dose of realism to the story, their haziness makes them seem poorly copied, giving the book a less-than-professional air in some points. This is a minor criticism, however, and it will likely not matter to the fans eagerly awaiting yet another dramatic fantasy from the creators they love.
--
Snow Wildsmith: Writer and former teen librarian and ALA/YALSA committee member.