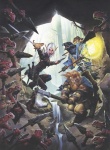 Dynamite Entertainment has acquired a license to produce comics based on Paizo Publishing's Pathfinder Roleplaying Game. The first comics will be launched in 2012.
The
Pathfinder RPG
has become a strong competitor for long-time RPG category leader
Dungeons & Dragons,
with sales that top Wizards of the Coast's
D&D RPG
at times (see "
Top 5 RPGs—Summer 2011
"). This new license sets up a competitive situation on the comic front, where IDW Publishing has the license for comics based on Wizards of the Coast's
Dungeons & Dragons
. The comics based on
D&D
appear to be settling in at around 8,500 copies per issue in the comic store market (see "
Top 300 Comics—November 2011
"), with higher sales on first issues, etc.
Paizo Publishing and Dynamite Entertaining are planning cross-promotions to raise awareness of the
Pathfinder
comics.