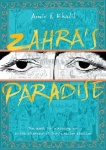 The Young Adult Library Services Association has released its annual list of Great Graphic Novels for Teens, and as usual the group has created a very strong honor roll of 56 titles that encompass the best from both mainstream and independent publishers. The list includes non-fiction titles as well as manga and representative volumes from nearly every active genre of comics. The group also released a "Top Ten" list of titles "that exemplify the quality and range of graphic novels appropriate for teen audiences."
The YALSA 2012 Top Ten List is:
1. Zahra's Paradise (First Second)
2. Scarlet (Marvel Comics)
3. Anya's Ghost (First Second)
4. The Influencing Machine (W.W. Norton & Co.)
5. Thor: The Mighty Avenger (Marvel Comics)
6. Infinite Kung Fu (Top Shelf Productions)
7. A Bride's Story (Yen Press)
8. Axe Cop Vol. 1 (Dark Horse Comics)
9. Daybreak (Drawn & Quarterly)
10. Wandering Son Vol. 1 (Fantagraphics Books)
For the complete list of all 56 titles click
here
.