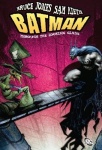 Sales of comics and graphic novels to comic stores as reported by Diamond Comic Distributors surged in January, with a 27.5% increase over January 2011. While that compares to a weak January in 2011, which was down around 19% from the previous year, the size of the increase means that January 2011 was a substantial increase over 2010. In fact, January 2012 looks like the best January since pre-crisis 2008, which eked out a 1% year over year gain vs. 2007. Both comics and graphic novels showed big increases, with comics at a 32% gain and graphic novels up 18% vs. 2011.
Comics and graphic novels were up by the highest percentage since May 2006, which bested May 2005 by 32% due to the launch of Civil War, DC's 52 series, and more (see "
May Comics Boffo
!"). Only two other months since then, November 2006 and January 2007, had growth rates that were over 20%.
The head to head matchup between Big Two comic publishers Marvel and DC, which has been such intense competition over the past few months, remained a close race in January, with Marvel winning the dollar share by 1.62%, but losing the unit share by 2.35%. The difference, of course, is caused by Marvel's higher average cover prices.
The dollar share difference of 1.62% was up a hair from the .69% spread in December (see "
Marvel Regains Top Spot in December
"), but this doesn't really give Marvel any breathing room as the summer approaches.
DC dominated the Top 10 comic titles, occupying all ten slots. The last time a publisher held all ten slots was in January of 2005, when Marvel took them all (see "
Marvel Owns 70k+")
. The graphic novel Top Ten was not atypical, with five out of the top ten slots occupied by DC titles, including OGN
Batman: Through the Looking Glass HC
at #1.
Top Ten Comics in January 2012
1. Justice Leage #5
2. Batman #5
3. Action Comics #5
4. Detective Comics #5
5. Green Lantern #5
6. Batman: The Dark Knight #5
7. Superman #5
8. The Flash #5
9. Batman and Robin #5
10. Aquaman #5
Top Ten Graphic Novels in Comic Stores in January 2012


1. Batman: Through the Looking Glass HC (DC)
2. Invincible Vol. 15: Get Smart TP (Image)
3. The Walking Dead Vol. 1: Days Gone Bye (Image)
4. Fear Itself Premiere HC (Marvel)
5. The Unwritten Volume 5: On to Genesis (DC)
6. Batman: The Return of Bruce Wayne (DC)
7. The Walking Dead Vol. 15 TP (Image)
8. B.P.R.D.: Hell on Earth Volume 2: Gods and Monsters TP (Dark Horse)
9. Sweet Tooth Vol. 4: Endangered Species TP (DC)