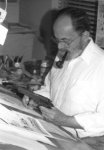 One of the last of the great EC Comics artists, John Severin, has died at the age of 90. Severin, who was inducted into the Will Eisner Hall of Fame in 2003, began working in comics in the late 1940s when he shared a studio with Harvey Kurtzman and Will Elder. Severin, who had a special talent for both military and western subjects, drew Two-Fisted Tales and Frontline Combat for EC, and was also one of the founding five original artists who launched Mad Magazine in 1952. Severin and his sister Marie, a talented artist and colorist in her own right with numerous credits at EC and Marvel, formed one of comics' very few brother/sister duos.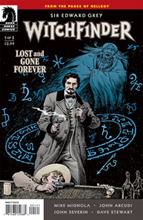 After the censorship-aided demise of EC's comic book line, Severin worked at Atlas Comics, the forerunner of Marvel, where Severin found extensive employment both as a penciler and as an inker on titles such as
Sgt. Fury and His Howling Commandos
,
The Incredible Hulk, The 'Nam, Conan the Barbarian
, and
Semper F
i. He also worked extensively outside of Marvel, contributing to the Mad knock-off
Cracked
, as well as working for Warren Publishing and Topps. In 2003 he illustrated a revisionist version of the
Rawhide Kid
written by Ron Zimmerman, which depicted the longtime Marvel western hero as gay. Last year at the age of 89, he illustrated the
Witchfinder
miniseries for Dark Horse Comics showing little, if any, diminution of the skills that place him in the forefront of comic book artists in a career that spanned over 60 years.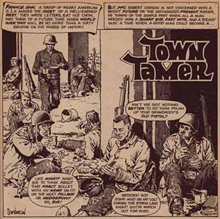 Though he could adopt a "cartoony" style for his humorous parodies, his natural style was highly detailed and realistic. His military and western work was characterized by superb research that lent authenticity to the proceedings and he had few peers when it came to his ability to create individualized characters with sharply drawn faces and superbly rendered expressions that added emotional weight and drama to the scenes he depicted. Bottom line—Severin could just plain flat out draw with the best of them.