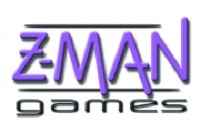 Z-Man Games announced today that the company has chosen to enter into an exclusive distribution agreement with Alliance Game Distributors and its parent company Diamond Comic Distributors. Effective immediately Alliance and Diamond will become the sole distributors of Z-Man Games products to hobby retailers in the U.S. and its territories. Z-Man Games' other distribution agreements outside the U.S. are unaffected by the agreement with Alliance and Diamond, which is limited to hobby distribution in the U.S. Since this agreement takes effect immediately, retailers who have pre-ordered Z-Man games from other distributors will need to contact Alliance and redo their orders.
Z-Man Games CEO and President Sophie Gravel sees both additional marketing opportunities and cost savings as the primary benefits in the consolidation of distribution in the U.S. Later this spring Z-Man will announce new marketing programs that will include demo packages and event kits for retailers, as well as an organized play program. Plans call for "Championship Season" events featuring the most popular Z-Man games in the catalog with regional events held at hobby stores and conventions, while for major new releases some qualifying retailers will receive advance copies. Major new releases are being developed with displays and point of purchase marketing in mind, which will give retailers more selling options.
Z-Man Games was founded in 1999 by Zev Shlasinger. Shlasinger was one of the first to see the coming boom in board game sales and not only developed home grown games, but also forged alliances with a number of European board game manufacturers and introduced English language versions of their games to the North American market. Shlasinger, who still remains with the company (scouring the world for new and exciting board games), sold Z-Man Games to the Canadian publisher Filosophia last June (see "
Canadian Company Buys Z-Man Games
"). Among the many games on its extensive roster are a
The Walking Dead
board game based on the Image comic book series, and such other well known games as
Pandemic, Agricola, Dungeon Lords, Neuroshima Hex, Troyes
,
Saboteur
, and
Merchants and Marauders
, to name just a few of the most prominent.