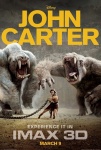 Andrew Stanton's John Carter, an ambitious $250 million adaptation of Edgar Rice Burroughs' Barsoom novel A Princess of Mars, came in squarely in the middle of industry expectations with an estimated $30.6 million, which was only good enough for second place as last week's winner The Lorax declined just 44.3%, while earning $39.1 million and easily topping the weekend box office chart.

John Carter performed somewhat better overseas where it earned $70 million as it opened in every major territory other than China and Japan. The overseas grosses were, as predicted, better than the domestic, but the film would have to make well over $600 million worldwide to break even, which appears totally impossible at this point and the movie's dismal debut certainly puts the second two films in Stanton's planned Barsoom trilogy in serious jeopardy.
Weekend Box Office (Studio Estimates): March 9 - 11, 2012

Film

Weekend Gross

Screens

Avg./

Screen

Total Gross

Wk#

1

Dr. Seuss' The Lorax

$39,100,000

3,746

$10,438

$121,950,000

2

2

John Carter

$30,603,000

3,749

$8,163

$30,603,000

1

3

Project X

$11,550,000

3,055

$3,781

$40,125,000

2

4

Silent House

$7,010,000

2,124

$3,300

$7,010,000

1

5

Act of Valor

$7,000,000

2,951

$2,372

$56,100,597

3

6

A Thousand Words

$6,350,000

1,890

$3,360

$6,350,000

1

7

Safe House

$5,000,000

2,144

$2,332

$115,800,000

5

8

The Vow

$4,000,000

2,478

$1,614

$117,614,000

5

9

This Means War

$3,750,000

1,949

$1,924

$46,889,000

4

10

Journey 2: The Mysterious Island

$3,685,000

2,525

$1,459

$90,716,000

5
John Carter did do well enough to help Hollywood keep its winning streak going as the total of the top 12 films was up 4.9% over the same frame last year when Battle Los Angeles topped the box office with a total of $35.6 million. Audiences and fans, who gave Stanton's film a solid "B+" CinemaScore, liked the movie a lot more than critics who gave John Carter just a 49% "fresh" rating on review aggregator Rotten Tomatoes. The audience for John Carter was predominantly male (63%) and older (59% of the crowd over 25). Only 8% of the audience was there because of the film's star Taylor Kitsch, an indication that movie could have used more star power.
It's not a question of whether John Carter will lose money, but how much. If it can avoid severe Green Lantern-like drops during its first few weeks and continue to do better overseas, Disney could cut its losses considerably. The post-mortem for John Carter's mediocre debut is already underway in Hollywood with analysts blaming the film's generic title (John Carter of Mars would certainly have been more descriptive, but Disney nixed it because it didn't play well with women in focus groups--well the John Carter title certainly didn't excel at attracting females either), and Disney's murky TV ads, which made the movie look like a generic green screen CGI spectacle like The Immortals, did the film a disservice. Perhaps the zeitgeist is just not right for this sort of highly imaginative, fantastical Edwardian science fiction, but the fact that many fans appear to have truly enjoyed the movie provides some hope that it will be able to attain "cult film status" on DVD and Blu-ray.
For all its problems John Carter performed quite a bit better than this weekend's other newcomers. The single-shot "R" rated horror film Silent House earned a paltry $7 million and received an "F" CinemaScore from audiences, which doesn't bode well for its theatrical future, while the Eddie Murphy comedy, A Thousand Words, which has been on the shelf since 2008 (always a very bad sign) brought in a mere $6.3 million. The weekend's other newcomer, the comedy Friends With Kids, brought in just $2.1 million, though since it was only in 374 theaters, its per screen average was actually third best this weekend, trailing just The Lorax and John Carter.
All the holdovers in the Top Ten held quite well. The teen party flick Project X fell just 45%, while Act of Valor, the fictional film starring real Navy Seals, slipped 48% in its third weekend, the Denzel Washington espionage thriller Safe House declined just 32%, while the romance The Vow slipped 33% and the comedy This Means War slid 32.6% and Journey 2: The Mysterious Island fell just 43.7%.
The Marvel-based Ghost Rider: Spirit of Vengeance dropped out of the Top Ten and plummeted 57% in its fourth weekend. The Ghost Rider sequel should finish in the $50 million neighborhood domestically, which is less than half of the $115.8 million that the original Ghost Rider movie earned in 2007. Ghost Rider immediately becomes the most likely candidate to have its rights revert to Marvel, unless Sony wants to keep beating its head against this particular cinematic wall.
Check back next week to see how John Carter fares in its second frame and to see if the comedy adaptation of 21 Jump Street, for which Sony has rolled out an extensive TV ad campaign, will take the box office crown.