The Pokemon Company International has announced the May 9th release of Pokemon TCG: Black & White-Dark Explorers, the fifth expansion for Pokemon Black & White. This standard expansion includes more than 100 cards and is available in both Theme Decks (MSRP $11.99) and Booster Packs (MSRP $3.99).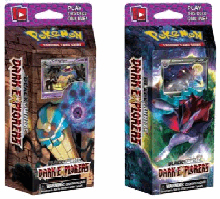 This expansion ushers in the return of the immensely powerful "Darkrai-EX" and a lineup of Darkness-type Pokemon like Zoroark, Umbreon, and Sableye. With trainer cards like "Dark Patch" players can get a serious edge with new strategies for Darkness-type
Pokemon
.
The Dark Explorers expansion also includes an impressive run of six new "Pokemon-EX" from the Unova and beyond including (in addition to the Darkrai-EX) "Tornadus-EX," "Kyogre-EX," "Raikou-EX," and "Groudon-EX," all of which are featured as "Pokemon-EX" cards and rare Ultra full-art "Pokemon-EX" cards.