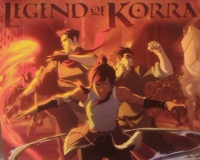 Nickelodeon has finally announced the debut date for The Legend of Korra, perhaps the most eagerly anticipated kids cartoon slated to air this year. The series will debut on Saturday, April 14th at 11am (ET, PT), which will be the show's regular weekly timeslot.
Created by Michael DiMartino and Bryan Konietzko, who also created the Avatar: The Last Airbender series, The Legend of Korra features a rebellious 17-year-old girl as its protagonist. Korra wants to become an avatar, but in the world in which this saga takes place some 70 years after the events in the first Avatar series, the benders are under attack.
The popularity of
The Last Airbender
cartoon series can be gauged by the fact that even though the final episode of the original series was broadcast in 2008, the appeal of the show is strong enough that Dark Horse's
Avatar: The Last Airbender
graphic novel collection was the bestselling graphic novel in bookstores in February (see "
Avatar Tops Bookstore Sales in February
").