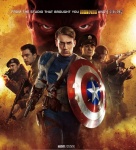 The Walt Disney Studios announced today that Marvel Studio's sequel to the blockbuster Captain America: The First Avenger will be released on April 4th, 2014. The studio press release also indicates that the Cap sequel will be set in the modern day, after the events in Joss Whedon's The Avengers, which opens on May 4th, stating: "The second installment will pick-up where the highly-anticipated Marvel's The Avengers leaves off, as Steve Rogers continues his affiliation with Nick Fury and S.H.I.E.L.D. and struggles to embrace his role in the modern world.
Now this doesn't mean that a Cap movie might not contain flashbacks to World War II, and it gives little or no indication of what narrative direction the Captain America sequel might take, though it is likely that the studio has already agreed on a basic treatment/storyline for the movie. Even given the modern day setting, the Cap sequel could be anything from an adaptation of the Winter Soldier saga to an entirely new narrative that ties in with other Marvel Studios movies. The Cap sequel will be preceded by Iron Man 3 (May 3rd, 2013), Thor 2 (November 15th, 2013), and Disney is still holding out on revealing the Marvel film it plans to open on May 16th, 2014, which could be an Avengers sequel if Whedon's film does as well as expected.
With the
Captain America
sequel's debut now less than two years away, Marvel will need to find a director soon.
Vulture
reports that Marvel has a short list of potential directors that includes George Nolfi, who directed
The Adjustment Bureau
, F. Gary Gray, who helmed the stylish
The Italian Job
, and the "wild card" choice Anthony and Joseph Russo, the brothers behind the
Community
TV series whose movie directing career currently consists of just two comedies,
You, Me & Dupree
and
Welcome to Collinwood
.
Captain America: The First Avenger, which was released in July of 2011, cost $140 million to make and earned $368.6 million worldwide ($176.6 million domestically and $191.9 million overseas).