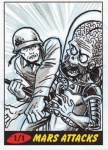 The Topps Company has released a partial list of the artists who are providing "Sketch Cards" for its
Mars Attacks Heritage Trading Cards
release, which is slated to ship to retail in July (see "
'Mars Attacks Heritage' Card Set
"). Topps is including the first ever
Mars Attacks
"Sketch Cards" featuring interpretations of the classic
Mars Attacks
mythos by a wide range of artists with different backgrounds including comic book artists, science fiction illustrators, independent artists, and some who specialize in horror subjects. Topps is guaranteeing one "Sketch Card" in every box of
Mars Attacks Heritage
cards sent to the hobby market.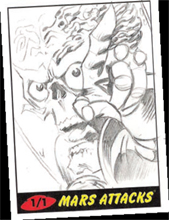 Here is a partial list of the artists involved: Jason Atomic, Lee Bradley, Kate Bradley, Dan Brereton, Jacob Chabot, Ted Dastick, Jr., Layron Dejarnette, Pablo Diaz, Colleen Doran, Jason Durdan, Kimberly Dunaway, Andrew Elder, Randy Elliot, Brent Engstrom, Agnes Garbowska, Jason Goad, Jessica Hickman, Brian Kong, Charles Hall, Cory Hamscher, Diego Jourdan, Gary Kezele, Matthew Kirscht, Sara Martin, Chris Mason, Chad McCown, Brian Miller, Rich Molinelli, Nik Nucleous, Sara Pence, Don Perlin, Mike Pingatore, Ashleigh Popplewell, Tim Proctor, Ed Repka, Jeremy Scott, Joe Simko, Jamie Snell, Russ Walks, and Jeff Zapata.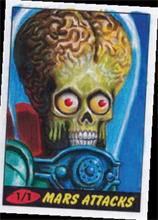 Topps'
Mars Attacks Heritage Trading Cards
are the centerpiece in the 50th Anniversary
Mars Attack
celebration that also includes a new
Mars Attacks
comic book series from IDW Publishing. The
Mars Attacks Heritage Trading Cards
set contains all 55 of the original
Mars Attacks
designs, plus 25 new cards, ten of which are based on sketches for cards by the original
Mars Attacks
artists that were never used in the original set, plus 15 new card designs created by John McCrea, who is drawing the new IDW
Mars Attacks
comics. In addition to the "Sketch Cards" described above, chase card inserts include limited edition multi-colored parallels and 3-D lenticular cards.
Topps "Heritage" treatment means that the cards will be printed on thick, old fashioned card stock, and packaged in wrappers and display boxes that mimic the look of the original 1962 Mars Attacks cards.