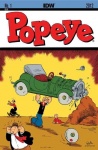 Popeye #1

Publisher: IDW Publishing
Release Date: April 25, 2012
Price: $3.99
Creators: Roger Langridge (writer), Bruce Ozella (artist)
Format: 32-pgs; Full-Color
Age Rating: All Ages
ICv2 Ratings: 5 Stars out of 5
Olive Oyl's brother Castor has decided that there's millions in Jeep breeding; he already has one, Eugene the family pet, but to get to a distant desert island where another one has been sighted he'll need Popeye's boat. Naturally a sea voyage with him is anything but uneventful and soon he'll have to deal with some of his worst enemies and his crew will face even worse dangers once they actually reach the island.
Anyone who creates new
Popeye
comics will invariably face unfair comparisons with the work of the Sailor Man's creator E.C. Segar, so it seems like you're automatically asking for trouble from all of the Segar aficionados out there by doing one in his style. But writer Roger Langridge and artist Bruce Ozella have done a first-rate job of approximating Segar's work without out and out imitating either his art or writing.
And just as importantly as having crafted a clever story, they've gotten all of the characters just right.
Popeye
is as surprisingly thoughtful and kind-hearted as he should be; Olive is mercurial and brittle; and Wimpy is, well, J. Wellington Wimpy, one of the greatest comic creations of the 20th century. Langridge especially excels at writing Wimpy's wandering monologues and odd comebacks. Not only is it absolutely authentic but it's a great deal of food that should appeal to
Popeye's
most ardent fans to today's kids.
--
Steve Bennett: Writer and retail services consultant.