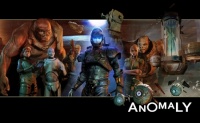 Anomaly Productions has announced the October publication of Skip Brittenham and Brian Haberlin's Anomaly. Brittenham is a Hollywood dealmaker and Haberlin is a veteran comic book artist and writer who was one of the co-creators of Witchblade at Top Cow. Anomaly, a science fiction saga set in 2717, will be released both as a 370-page hardcover book and as a stand-alone tablet app with the panels narrated by some of the top voice actors working in movies and video games.

The hardcover volume will be the longest full-color original graphic novel ever published. In addition to the stand-alone tablet app, readers can download a free Ultra Augmented Reality app for either iOS or android devices. And as is increasingly predictable in this era of multi-media projects, producer Joe Roth is also developing Anomaly as a major motion picture.
Brittenham and Haberlin have collaborated on the writing of Anomaly, which features art by Haberlin and Geirrod Van Dyke. Set in the 28th Century when most of mankind lives in off-world colonies and a single corporation known as The Conglomerate routinely conquers planets in order to exploit their resources, Anomaly centers on a diplomatic mission to a mysterious planet where nothing is as it seems, and resistance to the Conglomerate's plans quickly grows among the planet's exotic inhabitants.

The hardcover
Anomaly
graphic novel will be printed using a new wide-gamut process that allows for more gradations of color and more detail than would be available from conventional printing. One of the project's most interesting features is the way in which an app can be used to enhance the conventional reading experience with the paper format edition of the book. Readers of the book can download the free Anomaly app for iOS or android devices, then point the device at the page of the hardcover book and watch the illustrations spring to life with interactive 3D animation.
Anomaly will also be available as a stand-alone app for multiple platforms including iPad, NOOK Tablet, and Kindle Fire, all of which come with many interactive features. The tablet app is narrated by well-known science fiction and video game actors including Vincent Corazza, Nana Visitor, Olivia D'Abo, Dave Fennoy, Hudson Leick, and Anthony Cistaro.
Anomaly represents an attempt by the authors to create a "hard science fiction" action-adventure with serious themes and ideas that is set in a deeply immersive environment. As Brian Haberlin noted: "What we've gone for is as much of a cinematic experience as is possible with pullouts that measure over 40 inches. It is truly a wide screen experience that no other graphic novel can match."
Anomaly has won converts among those who have examined the project in detail. Todd McFarlane called it "a meaty, sophisticated book filled with epic story and art that reads like a movie," while director Ridley Scott (Bladerunner, Prometheus) enthused: "Loaded with off-beat characters and idiosyncratic socio-structures, Anomaly does a smashing job of bringing us back to the fundamentals of humanity."