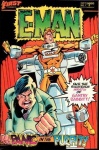 ICv2 spoke with Ken Levin, one of the original founders of First Comics who is leading the revival of the Chicago-area-based publisher, which plans to return to publishing this summer. First, which in its heyday published Mike Baron and Steve Rude's Nexus, Howard Chaykin's groundbreaking American Flagg, John Ostrander and Tim Truman's Grimjack, and the first American editions of Lone Wolf & Cub, has a number of projects in the works including reprint collections of some classic First properties, a new kid friendly Zen: Intergalactic Ninja comic series, recolored editions of Joe Staton and Nick Cuti's E-Man, a couple of new graphic novels featuring vintage First characters and nine original graphic novels.
The initial releases from the revived First Comics are due out this summer and First plans to bypass Diamond Comic Distributors and sell directly to retailers. Levin told ICv2 that this distribution model would give retailers a "better price" than working through Diamond, and would also allow First to provide more support in the form of posters and creator signings—and First's Levin promised that he would maintain a window between when a book is released in the traditional paper format and when it will be available in digital form.
Levin explained the new distribution model to ICv2: "Retailers will have somebody that they can contact directly with questions. We realize that First is capable of screwing up orders every bit as much as Diamond, but at least retailers will have somebody who can make it right, right away. First was always, and continues to be, all about retailer support." A retailer liason has begun contacting comic stores for the company.
Among the First projects announced at C2E2 was the reprinting of the entire run of Steve Stern and Dan Cote's Zen: Intergalactic Ninja. The first collected Zen volume, a 155-page full color volume that includes the Archie Zen comics from the 1990s, will be out in time for the San Diego Comic-Con, and will ship to retailers late this summer. Cote has also created a new kid friendly Zen series, and at least one 36-page issue should be available at Comic-Con.

The First Comics revival was first announced at San Diego Comic-Con last year (see "First Comics Returns").