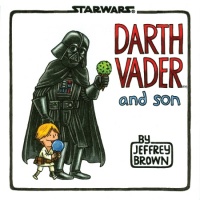 Darth Vader and Son HC

Publisher: Chronicle Books
Release Date: April 2012
Price: $14.95
Creator: Jeffrey Brown
Format: 64 pgs.; Full-Color; Hardcover
ISBN: 978-1-4521-0655-7
Age Rating: All-Ages
ICv2 Rating: 3 Stars out of 5
What if Darth Vader had raised his son Luke rather than the boy being spirited off as a baby by Obi-Wan Kenobi? How do you run an empire and crush a rebellion when you can't even get your four-year-old to pick up his toys? Comic artist (and father) Jeffrey Brown tackles just such questions in the adorable and funny Darth Vader and Son. With his trademark wit, Brown tackles familiar parenting problems, such as kids fighting, trick-or-treating, bedtime stories, and awkward conversations about the birds and the bees. His cartoons are highly detailed and shaded and colored in a darker palette (fitting for the rough-edged world of
Star Wars
), but still have a cheerful silliness to them.
Devoted
Star Wars
fans will love that Brown has taken Darth Vader's lines from the movies--"I am altering the deal. Pray I don't alter it any further"-- and cleverly turned them on their heads, finding the humor in both parenting and movie fandom, especially when he pokes gentle fun at the newer movies. Chronicle Books made sure that this cute compilation of one page comics was bound in an attractive hardcover, making it a terrific choice for Father's Day gifts for the geek dads in everyone's life.
--
Snow Wildsmith: Writer and former teen librarian and ALA/YALSA committee member.