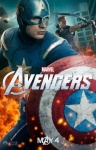 Joss Whedon's
The Avengers
scored the biggest weekend opening in box office history (not adjusted for inflation) with an estimated $200.3 million, which totally eclipsed the previous record of $169.2 million set by
Harry Potter and the Deathly Hallows—Part 2
last summer. The superhero team-up saga kicked things off with a Marvel Studios' record $18.7 million in midnight screenings (see "
Avengers Assembles $18.7 Million at Midnight
") that folded into a second-best all time Friday total of $80.5 million, which was followed by an estimated $69.7 million on Saturday, which would be a box office record for a Saturday, and another estimated record $50.1 million on Sunday, which would break the Sabbath record held by
The Dark Knight
of $43.6 million.
Weekend Box Office (Studio Estimates): May 4 - 6, 2012

Film

Weekend Gross

Screens

Avg./

Screen

Total Gross

Wk#

1

The Avengers

$200,300,000

4,349

$46,057

$200,300,000

1

2

Think Like a Man

$8,000,000

2,010

$3,980

$73,029,000

3

3

The Hunger Games

$5,700,000

2,794

$2,040

$380,727,000

7

4

The Lucky One

$5,510,000

3,005

$1,834

$47,917,000

3

5

The Pirates! Band of Misfits

$5,400,000

3,358

$1,608

$18,563,000

2

6

The Five-Year Engagement

$5,100,000

2,941

$1,734

$19,200,000

2

7

The Raven

$2,508,000

2,209

$1,135

$12,047,000

2

8

Safe

$2,470,000

2,271

$1,088

$12,874,000

2

9

Chimpanzee

$2,395,000

1,531

$1,564

$23,012,000

3

10

The Three Stooges

$1,800,000

2,174

$828

$39,637,000

4
The Avengers also earned a substantial $151.5 million overseas this weekend, bringing its 12-day total outside North America to $441.5 million and its worldwide cumulative to $641.8 million. The Avengers record-setting U.S. gross of $200.3 million propelled the domestic box office to a nearly 33% gain over the same weekend last year when Marvel Studios' Thor debuted with $65.7 million.
With this kind of gargantuan box office it is clear that The Avengers was a mainstream "four quadrant" hit, and the opening weekend demographics confirm with the movie split 50/50 between those older and younger that 25, though it should be noted that males predominated making up 60% of the audience. But 40% of an audience that produces a $200 million gross means that the movie was seen by a very large number of females. Fifty-five percent of the debut weekend crowd was composed of couples, with families making up 21% and teens a solid 21% as well.
Critics gave The Avengers a enough kudos to allow the superhero team-up saga to rack up a stellar 94% rating with review aggregator Rotten Tomatoes, but more importantly in terms of word-of-mouth, opening weekend audiences gave the film an "A+," which in conjunction with the record-setting debut should work in favor of a longer run at the box office than might be expected from today's increasingly front-loaded blockbusters.
The Avengers, which at a cost of $220 million is the most expensive Marvel Studios film to date (Iron Man 2 cost $170 million), should rather easily join the billion dollar in the coming weeks. Its success validates the superhero team-up movie, so Hollywood, being the hotbed of originality that it is, will quickly produce a number of new entries in this just-founded superhero subgenre. The success of The Avengers should also boost the stock of director Joss Whedon, who with The Avengers set a pretty high standard for this new subgenre that future superhero team-up movies including a potential Whedon-helmed sequel will be judged. The Avengers also sets high marks in box office performance that Sony's Spider-Man reboot and Christopher Nolan's The Dark Knight Rises will be judged against. Does the enormous successes scored by The Hunger Games and The Avengers mean that we are in for a mega-summer for Hollywood with new records being set every month, or do these stellar box office performances just reflect the intrinsic qualities of the films and the franchise involved?
The Avengers sucked much of the air out of the weekend box office, but the top five holdovers did OK with holds around 50% or better. Sony's comedy Think Like a Man, the surprise hit that had topped the box office for two weeks in a row, dropped 54.6% and finished in second place with an estimated $8 million followed by a logjam with four films including The Hunger Games, The Lucky One, The Pirates! Band of Misfits, and The Five-Year Engagement that earned between five and six million. Don't be surprised if the order among this quartet of film changes tomorrow when the official box office figures are revealed, though the real drama will be whether or not Disney's estimate holds and The Avengers was actually the first film to post a 3-day opening weekend total of $200 million.
Check back next weekend to see what kind of drop-off the mighty Avengers movie suffers (with a mammoth opening like this it is bound to be substantial) and how Tim Burton's Dark Shadows starring Johnny Depp fares launching in the immediate wake of The Avengers.