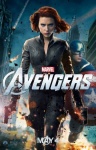 The final weekend box office numbers are in and it appears that Disney erred considerably with its Sunday estimate of $50.1 million for The Avengers, which was far off from the film's actual total of $57.1 million. The Avengers' Sunday performance totally blew away the previous box office record for a Sunday of $43.6 million, which was set by another comic book movie, Christopher Nolan's The Dark Knight, and it raised The Avengers' 3-Day weekend debut record to $207,438,708, a daunting total even for Nolan's final Batman film, The Dark Knight Rises to match. The Avengers did not set the record for Fridays, the fanatically front-loaded Harry Potter finale did that, but it did set records on both Saturday and Sunday, which equates to great "word of mouth" and bodes well for the film's chances to reach the rarefied air of the $500 million plateau in domestic box office.
The Avengers' massive box office total, which accounted for 82 cents of every ticket dollar in North America last weekend, was certainly helped by 3-D and the extra $3-5 a ticket that it brings, though only 52% of the opening weekend audience, a bare majority, opted to see the film in its pricier extra-dimensional version. This is better than the 40% 3-D share that Captain America earned, but less than Thor's 60%. Still in order to beat The Avengers' record The Dark Knight Rises is going to have to attract a bigger audience simply because it is not in 3-D (though TDKR will be aided by a very wide IMAX release at premium prices).
The Avengers has also earned $447.4 million through Sunday overseas, which gives it a worldwide total of $654.5 million that already is well clear of the $617.7 million earned by The Hunger Games. This makes The Avengers 2012's number one film to date worldwide. The Hunger Games, which has earned $380 million domestically, is still well ahead in the North American market.
Disney's marketing of
The Avengers
is hard to fault. The "head count" ad (see "
New 'Avengers' Spot
" to watch it) in which Robert Downey, Jr.'s Tony Stark introduces each member of the superhero team is a model of compact storytelling that expertly conveys the essence of the movie (this disparate group must band together to save the planet, and they're going to do it with a good-natured smirk and a quip).
In addition to establishing a new superhero subgenre,
The Avengers
also reaffirmed the comic book movie's "alpha predator" status among summer blockbuster movie genres. The primacy of the superhero genre has been under attack from the cumulative earnings of the
Harry Potter
franchise and the powerful debut of another YA novel-based franchise,
The Hunger Games
.