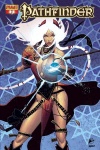 The first issue of Dynamite Entertainment's Pathfinder comics will include a removable tactical map (with poster) that's playable in the Pathfinder RPG. The exclusive map and poster, over ten pages of character profiles and game stats, and the comic story will fill out the 40-page first issue, at a $3.99 MSRP.
Jim Zub (nee Zubkavich), who's worked on Skullkickers and Makeshift Miracle and is writing the Sky Kid Webcomic for Shiftylook, will write the Pathfinder comic, with Andrew Huerta contributing the art. Zubkavich has an art background in videogames and RPGs and is known to Paizo publisher Eric Mona from Mona's time as Dragon EIC. "His experience with fantasy and gaming make him the perfect writer for this series," Mona said.
Dave Dorman, Lucio Parillo, Matteo Scalera,and Erik Jones each did covers for the first issue.
Dynamite Entertainment is producing the comics under license from Paizo Publishing (see "
'Pathfinder' Comics
").